American Horror Story (2011)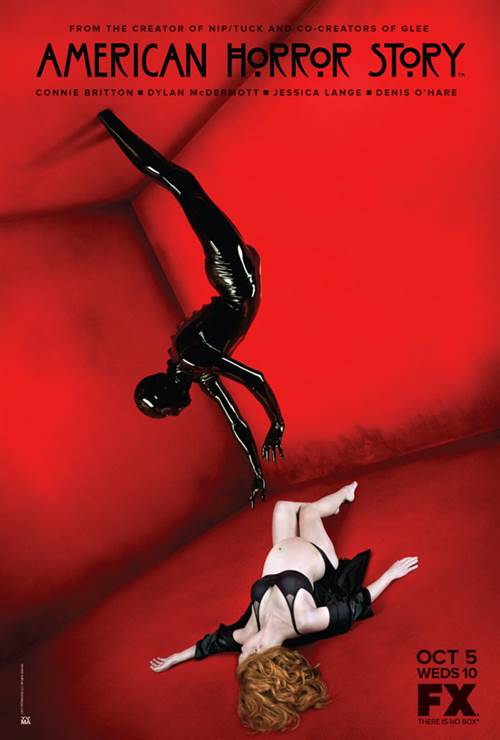 | | |
| --- | --- |
| Created By: | |
| Cast: | |
| Air Date: | Wednesday, October 5, 2011 |
| Studio: | 20th Century Studios |
| Genre: | Television |
| Rating: | This program is specifically designed to be viewed by adults and therefore may be unsuitable for children under 17. |
American Horror Story Synopsis
Set in 1964, American Horror Story: Asylum takes us into a Church-run haven for the criminally insane, ruled with an iron fist by Sister Jude (Jessica Lange), a nun with a troubled past. Inside this locked down facility, danger lurks around every corner. From Nazis and serial killers, to mutants and aliens, no one is safe inside these walls. Starring Jessica Lange as "Sister Jude", Sarah Paulson as "Lana Winters", James Cromwell as "Dr. Arthur Arden," Evan Peters as "Kit Walker," Lily Rabe as "Sister Mary Eunice," Lizzie Brocheré as "Grace," Zachary Quinto as "Dr. Oliver Thredson," and Joseph Fiennes as "Monsignor Timothy Howard." Guest stars for the miniseries will include Frances Conroy, Chloe Sevigny, Adam Levine and Mark Consuelos.

Purchase DVD/Blu-ray/4K UHD physical copy of American Horror Story today at Amazon.com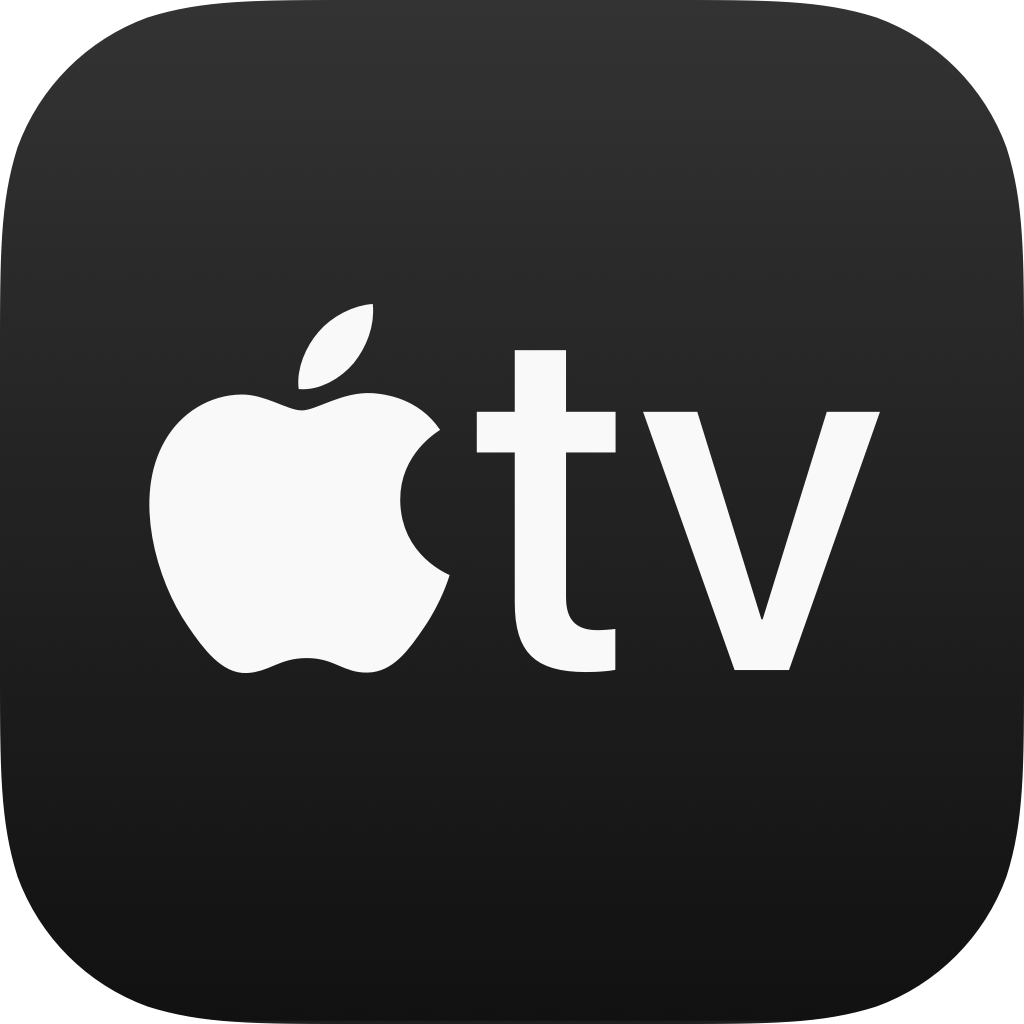 Stream American Horror Story in Digital HD/4K from the AppleTV store.
American Horror Story images are © 20th Century Fox. All Rights Reserved.
American Horror Story Renewed Through Season 13
1/9/2020 1:43 PM EST
FX's "American Horror Stroy" has been renewed for an additional three seasons. That will bring the total number of seasons to 13."Ryan [Murphy] and Brad [Falchuk] are the undisputed masters of horror TV, having created the anthological limited series with 'American Horror Story' and sustaining its success for nearly a decade as FX's highest-rated series. We are grateful to them and Dana Walden and...
More>>
FX Announces American Horror Story Activation for Comic-Con
7/2/2019 11:57 AM EST
It's been a big week of 2019 Comic-Con announcements so far, and now FX has announced their lineup for the annual event. The network has announced that their FX Fearless Forum will be anchored by the American Horror Story: 1984 - Face the Darkness activation. The immersive experience will feature classic tropes of slasher horror, augmented by night vision goggles to turn up the terror.  The Fearle...
More>>
Season 9 of American Horror Story to be Titled AHS 1984
4/10/2019 2:22 PM EST
The title of the next season of American Horror Story has been released - AHS 1984. The season will be a throwback to 1980's slasher films and will be the ninth season of the series. Ryan Murphy announced the title and posted a teaser clip this morning on social media.Emma Roberts will be returning to the show but there's no word on any other cast members' return. It was announced, however, that O...
More>>
Dylan McDermott and Connie Britton Returning to American Horror ...
8/23/2018 5:12 PM EST
Dylan McDermott and Connie Britton will be returning to the "American Horror Story" series for their upcoming season titled "Apocalypse". The pair appeared in the series' season one titled "Murder House".This upcoming season will be a crossover with the first and third ("Coven") seasons.Also returning this season will be Jessica Lange, Evan Peters, Sarah Paulson, Kathy Bates, Billie Lourd, Emma Ro...
More>>
Billie Lourd Set to Return to American Horror Story
5/21/2018 11:51 AM EST
Billie Lourd will be returning to the American Horror Story series for Season 8. Lourd starred in Season 7 of the anthology series as Winter Anderson/Linda Kasabian. Season 8 will also be adding a new cast member, Joan Collins, who will play Evan Peters' grandmother.Lourd and Collins will join cast members Sarah Paulson, Evan Peters and Kathy Bates for the new season, which hasn't yet had a confir...
More>>
Lena Dunham to Guest Star in Next Season of American Horror Story
7/20/2017 11:02 AM EST
It's been announced that Lena Dunham will be joining the next season of American Horror Story. It is said that she will be involved in one episode.The seventh season topic and title will supposedly be announced at Comic-Con, so fans have that to look forward to.  The series stars Sarah Paulson, Evan Peters, Billie Lourd, Billy Eichner, Cheyenne Jackson, Alison Pill, Colton Haynes and Adina Porter....
More>>
American Horror Story Returns to Universal Orlando's Halloween H...
3/29/2017 2:30 PM EST
It has been announced that American Horror Story will once again make an appearance at Universal Orlando's Halloween Horror Nights.Starting on Friday, September 15, guests will encounter iconic scenes and come face-to-face with the memorable - and horrifying - characters from the series, as well as a new maze.Michael Aiello, Sr. Director of Entertainment Creative for Universal Orlando Resort, said...
More>>
American Horror Story Season 7 to Have Presidential Election Bas...
2/16/2017 10:09 AM EST
American Horror Story creator Ryan Murphy was on the Watch What Happens Live with Andy Cohen show yesterday, and revealed that the plot for the upcoming 7th season will be based on the 2016 Presidential election."Well I don't have a title, but the season we begin shooting in June is going to be about the election that we just went through. So I think that will be interesting for a lot of people", ...
More>>
American Horror Story Renewed for Seasons 8 and 9
1/12/2017 11:30 AM EST
It has been announced that American Horror Story, the hit FX series, will be renewed for an eight and ninth season.  FX Networks CEO John Landgraf said, "American Horror Story launched the modern limited series revolution and - as evidenced by the most recent installment 'Roanoke' - it remains as vital today as when Murder House stunned audiences six years ago. Each new chapter is a cultural event...
More>>
American Horror Story Franchise Comes To Life At Universal Stud...
8/16/2016 1:44 PM EST
ORLANDO, Fla., UNIVERSAL CITY, Calif. (August 16, 2016) - One of the most horrifying and wickedly gruesome shows in television history is bleeding off the screen and into your nightmares."American Horror Story," FX's critically-acclaimed, Emmy and Golden Globe Award-winning television series that has terrorized viewers for five suspenseful installments, will come to life at "Halloween Horror Night...
More>>
Season 5 Cast Changes for American Horror Story
3/16/2015 10:47 AM EST
American Horror Story's fifth season will see some cast shakeups.  Jessica Lange announced at PaleyFest that she will not be returning to the FX series in October.  Lang told fans, "Yes, I'm done. We've had a great run here. I mean, I absolutely love doing these four characters, and in all the madness, I love the writers and Ryan (Murphy) and the insanity of shooting it." Lange has won two Emmys, ...
More>>
American Horror Story: Roanoke Blu-ray Review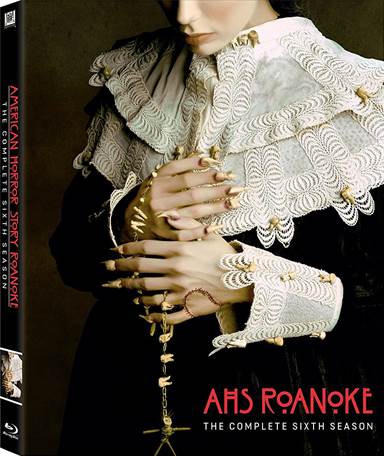 In case you're uncertain,
American Horror Story
is an anthology series centering on different characters and locations, including a house with a murderous past, an insane asylum, a witch, a freak show, a hotel, a possessed farmhouse and a cult
.
In season 6,
AHS: Roanoke,
we are taken on a wild, nightmarish ride through the backwoods of Virginia and the lost colony of Roanoke.
"Life imitates grisly reality TV in one of television's edgiest and most acclaimed shows ever! Told in gripping true-crime documentary style, "My Roanoke Nightmare" — this season's show within the show — chronicles shocking paranormal events. Hoping to begin a peaceful new life in a rustic North Carolina farmhouse, Shelby and Matt Miller (Emmy winner Sarah Paulson and Oscar winner Cuba Gooding Jr) flee Los Angeles, only to find murder, mayhem, and madness! From a girl ghost to a swine monster to murderous nurse sisters to a sadistic cult leader known as "The Butcher" (Oscar winner Kathy Bates), the couple's home is filled with nonstop terrors."
We are presented with a "Meta" production which sees the return of the repertory cast from previous seasons, including Cuba Gooding Jr., in what amounts to a "Reality Television" show, "My Roanoke Nightmare", within a show. It is a similar conceit as previous seasons, in that there is a haunted house and our players must confront theirs as well as the house's darkest secrets. However, the reality show reenacts the violent, paranormal events which took place to our main characters, all with a mid-season twist.
Going into this season, I must admit I was a bit uncertain since I was disappointed with the way Season 5, Hotel, fared during the later portion of the season, but I was open-minded enough to give 6 a try. I hadn't heard any details regarding the plot prior to its release, and I found out later that was by design, in this case, the secrecy worked in their favor. AHS: Roanoke, played well in spite of the usual tropes.
I haven't seen all of the seasons which preceded it, but Roanoke was off-the-rails gory, violent and genuinely creepy. At first, the switching between the actual persons and their actor counterparts was a bit confusing but once the story gets rolling and the claret begins to flow (gallons of it) it becomes familiar and you eventually settle into the pace. Unfortunately, that pace is interrupted at mid-season with an odd change for "My Roanoke Nightmare" where the show ends and then they attempt to revisit the success their producers had with a season two: "Return to Roanoke: 3 Days in Hell". It gets convoluted and this breakeven ruins the pacing and, not to mention the tension, they created in the first half of season 6. While it didn't ruin the season for me, it certainly dropped it down a few notches.
What I will say, which holds true for each season, is that the acting from the entire cast is consistently excellent, they embody the roles and this season was no different. Kathy Bates (brilliant as Agnes Mary Winstead, portraying The Butcher), Cuba Gooding Jr., Sarah Paulson, Evan Peters, Denis O'Hare ( love him in Everything he does!), the list of fine actors is endless. Not to mention the unsettling, eerie splendor of the house as well as the forlorn setting of the dark woods, even the twisted neighbors, seemingly culled straight from a small town in west Texas, while perhaps a bit overdone, these cannibals really seem to add menace to a plot filled with its fair share.
Down to the specs. American Horror Story: Roanoke is presented on Blu-ray courtesy of 20th Century Fox Home Entertainment with an AVC encoded 1080p transfer in 1.78:1. Each season seems to outdo the last in its look and feel and this season is no exception, especially during the presentations of the ghosts or the flashbacks to the lost colony. The scenes in this Blu-ray are vivid, lurid and most certainly deliver on the promise to frighten and even titillate.
The DTS-HD Master Audio 5.1 provides a clear soundstage and even delivers fantastic atmospherics, they take advantage of some scary fun sound effects, and even the music, creates a pervading sense of hopelessness and isolation. The dialog between characters all seem to be pretty straightforward, but it's never lost and the mix is pretty clear throughout.
Roanoke features aren't many, but they provide a fun Q&A from The PaleyFest 2017 which features Sarah Paulson, Kathy Bates, Cuba Gooding Jr., Denis O'Hare, Adina Porter, Cheyenne Jackson, Exec Prod Tim Minier and Co-Creator Brad Falchuk. As well as American Horror Story: Roanoke Promos, presented in 1080p, as well.
All in all, this is a solid, albeit a tad thin on extras, release, and if you are a fan of American Horror Story or a horror completest, you should pick this up, at this price, it won't feel like The Butcher chopped up your wallet.
Grade: B-
Read More American Horror Story Reviews
John Delia (A) (American Horror Story: Season 1 Blu-ray Review)
Nathan M Rose (C) (American Horror Story: Freak Show Blu-ray Review)
Sean Ferguson (B) (American Horror Story: Hotel Blu-ray Review)
For more reviews please visit our film/television review section.
SPONSORED LINKS