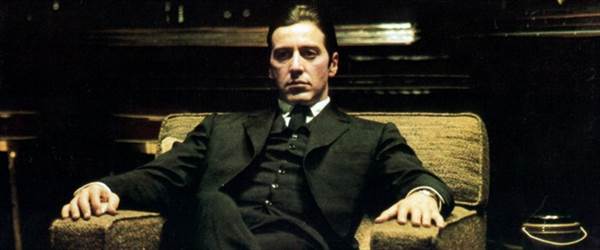 The 16th annual Tribeca Film Festival is taking place today through April 30, and one of the main events scheduled will be a "Godfather" reunion panel.

The cast, including Al Pacino, James Caan, Robert Duvall, Diane Keaton, Talia Shire and Robert De Niro, will be joined by director Francis Ford Coppola for a Facebook Live streaming event during its closing night, on April 29. The panel will, no doubt, be the most anticipated events of the festival this year.

Facebook will also be live streaming other talks that include Ron Howard, Lena Dunham, Michael Moore and Kobe Bryant.

The following is the schedule for the 2017 Tribeca Film Festvial:

Genius (National Geographic) Thursday, April 20 7:00 PM. Join the conversation from one of the most highly anticipated upcoming television series, Genius, about the greatest scientific mind of the 20th century - Albert Einstein. Director and executive producer Ron Howard, executive producers Brian Grazer and Gigi Pritzker, showrunner Ken Biller, and cast members Geoffrey Rush, Johnny Flynn, Emily Watson, and Samantha Colley all join a talk moderated by People's editor-in-chief, Jess Cagle.

Bowling for Columbine Thursday, April 20 9:00 PM. Michael Moore takes the stage with award-winning documentarian D.A. Pennebaker on the 18th anniversary of the devastating mass shooting at Columbine High School, and 15th anniversary of Bowling for Columbine's release, which won the Academy Award for Best Documentary. In the current moment of frequent mass shootings and ongoing legislative battles, Moore's confrontational documentary remains relevant as ever.

The Handmaid's Tale (Hulu) Friday, April 21 7:00 PM. What is it like to be part of one of the most talked about new series? Join executive producers Bruce Miller, Warren Littlefield, Reed Morano and cast members Elisabeth Moss, Joseph Fiennes, Yvonne Strahovski, Samira Wiley, Alexis Bledel, Madeline Brewer, Ann Dowd, O.T. Fagbenle and Max Minghella in a can't miss conversation. Moderated by editor-in-chief for Elle magazine, Robbie Myers.

House of Z Saturday, April 22 9:30 PM. A must see for fashionistas of all ages, Tribeca opens up the conversation with director Sandy Chronopoulos, the film's subject Zac Posen, and fashion editor André Leon Talley about the world premiere documentary House of Z. Zac Posen rocketed to fashion stardom at a young age with his unique design aesthetic and charismatic presence, becoming one the most recognizable faces in the business today. But like any journey to great success it hasn't come without cost.

Copwatch Sunday, April 23 3:35 PM. Copwatch is the true story of We Copwatch, an organization that films police activity as a non-violent form of protest and deterrent to police brutality. In her feature film debut, director Camilla Hall crafts an intriguing and timely profile of citizen-journalist-activists - including Ramsey Orta who filmed Eric Garner's fatal arrest - who seek to disrupt the ever-present challenge of police violence.

Dear Basketball Sunday, April 23 4:45 PM. A Tribeca Talks: Storytellers event featuring basketball great Kobe Bryant and animator Glen Keane discussing their animated short film Dear Basketball. The short explores what it is like to say goodbye to something you love. In an onstage conversation led by Michael Strahan, Bryant and Keane focus on what story means to them and what it is like to truly step out of your own lane.

The Clapper Sunday, April 23 9:00 PM. Writer and Director Dito Montiel discusses The Clapper, a heartfelt comedy starring Ed Helms as Eddie Krumble, a professional audience member who gains unwanted notoriety when a late-night talk show turns his life into a national obsession, threatening his budding relationship with gas station attendant Judy (Amanda Seyfried). Also featuring Tracy Morgan, Adam Levine, Russell Peters, PJ Byrne, and appearances from Rob Gronkowski, Mark Cuban and the late Alan Thicke.

Lena Dunham and Jenni Konner Tuesday, April 25 6:00 PM. A Tribeca Talks: Storytellers event moderated by America Ferrera, Dunham and Konner will discuss Girls, the industry, and the highs and lows of their careers.

Crypt TV's Monster Madness Tuesday, April 25 8:00 PM. Ever wonder what it is like to work as a "scaremaker" on some of the most stunningly terrifying horror shorts? Then don't miss the conversation with filmmaker Eli Roth, Crypt TV Chief Content Officer, Kate Krantz, and Crypt TV's Monster Madness filmmakers Gabriel Younes, Anthony Melton, and Ben Franklin, moderated by Crypt TV CEO & Co-Founder, Jack Davis.

Another Period (Comedy Central) Wednesday, April 26 6:45 PM. A Season 3 world premiere talk with creators and cast. What's it like working on an outrageous comedy set in the early 1900s? Find out first-hand during a conversation with creators, writers, and stars Natasha Leggero and Riki Lindhome, and cast members Paget Brewster and Brett Gelman about the Comedy Central hit, which follows the insanely decadent and outrageous life of the Bellacourt sisters. Moderated by editor for New York Magazine and Vulture, Stacey Wilson Hunt.

The Godfather/The Godfather: Part II Discussion Saturday, April 29 8:10 PM. The Closing Night event at Radio City Music Hall marks the 45th anniversary of The Godfather with Academy Award-winning director Francis Ford Coppola and actors Al Pacino, James Caan, Robert Duvall, Diane Keaton, Talia Shire, and Robert De Niro, moderated by director Taylor Hackford. The talk follows an epic back-to-back 45th anniversary screening of The Godfather and The Godfather: Part II.

Episodes (Showtime) Sunday, April 30 6:30 PM. The final season world premiere of Episodes is marked with a talk about the series and final season with creators David Crane and Jeffrey Klarik, and cast member Matt LeBlanc. Moderated by editor for New York Magazine and Vulture, Stacey Wilson Hunt.