HBO GLOBAL LICENSING® PARTNERS WITH GES EVENTS TO PRESENT GAME OF THRONES®: THE TOURING EXHIBITION
Jul 06, 2017 05:05 PM EST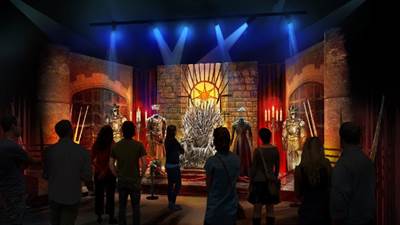 HBO has partnered with GED Events to present Game of Thrones: The Touring Exhibition. The tour will kick off in Europe and will continue around the world.

Visitors to the exhibition will see displays of costumes, props, weapons and armor and will explore several dynamic themed exhibition areas featuring series settings such as:

* The wintry landscapes of the North, the tree-lined pathway of the King's Road, and the regal settings of King's Landing.
* The conquered city of Meereen with its garrisons of Unsullied warriors and the loyalists of House Targaryen.
* Iconic settings like the mysterious House of Black and White, the home of the Night's Watch: Castle Black; and the frozen lands Beyond the Wall.
* The show stopping centerpiece of the iconic Iron Throne Room, where visitors can gaze upon the Westerosi seat of power in all its foreboding glory.

Jeff Peters, Director, Global Licensing, HBO, said, "GAME OF THRONES has truly become a worldwide phenomenon, with fans avidly watching the show throughout all corners of the globe. Based on the stellar work GES has done with previous entertainment partners, we think this exhibition is going to be something fans will love, regardless of which part of the world they call home, and we're excited to give them the opportunity to visit and celebrate the incredible craftsmanship of the talented GAME OF THRONES production team."

"GES is thrilled to partner with HBO to bring the craftsmanship and artistry of GAME OF THRONES to fans. We are committed to giving fans worldwide the opportunity to experience some of their favorite elements from the show firsthand while experiencing the world of Game of Thrones unlike ever before," said Eddie Newquist, Chief Creative Officer and EVP, GES Events.

"The innovative storytelling of GAME OF THRONES has been a cultural touchpoint since its premiere," said Steve Moster, president of GES and president and CEO of Viad. "We are excited to bring this exhilarating world to life to fans around the globe."

Additional details about Game of Thrones: The Touring Exhibition will be released in the coming months.

Filed Under: hbo, ges events, game of thrones
SPONSORED LINKS