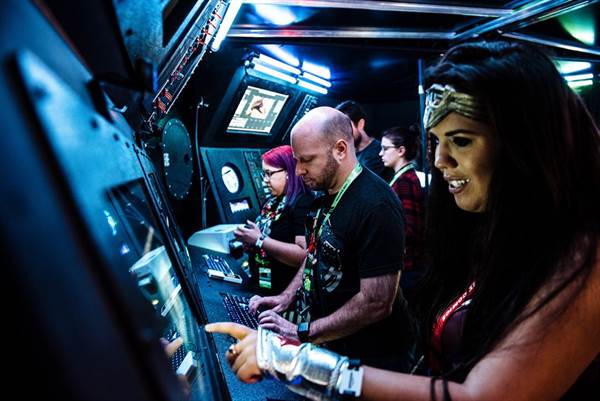 Amazon Video's "The Tick" may be on a hiatus but that didn't stop fans of the show from waiting on line at New York Comic Con to venture into and enjoy The Tick: Dangerboat Experience. After registering and obtaining a wristband fans "walked on water" (a water like blue/white carpet) to enter Dangerboat. Once inside there were various activities fans could try.
Besides taking a photo in the driver's seat, you could also click any number of buttons and switches. Scanning your wristband got you a can of Flo-Ham (a set of two Tick themed pins in a cutely designed canister) and you could also get a 360-degree video of yourself with a Tick themed background emailed to you to remember your experience. The best part, though, was the camera overheard that could see everything in the boat and, once you scanned your wristband, it would have a conversation with you even addressing you personally by name!
Upon leaving the boat, staff members were waiting to have fans fill out a short survey about Amazon Video and Amazon Prime and as a thank you, fans were given a blue Poncho with "The Tick" logo on it. With lots to see and do and a few goodies to walk away with, the experience was a lot of fun.
The Tick Season One was broken up into two parts with the first six airing on August 25, 2017. "The Tick" returns to Amazon Video on February 23, 2018, with Episodes 7-12.