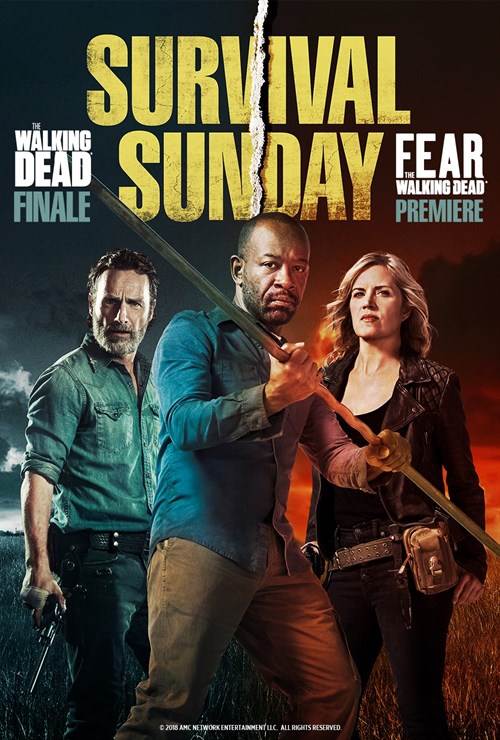 Fathom Events are always exciting and enjoyable for those who attend them, and on Sunday, April 15th, 2018, Fathom Events presented Survival Sunday. For those that are unfamiliar, Fathom Events is the home of cinematic experiences that offer high quality, affordable entertainment events broadcast to the big screen. Survival Sunday was a commercial-free, theatrical screening of the season eight finale of The Walking Dead, and the season four premiere of Fear the Walking Dead; one dovetailing into the other.

There was something new and exciting about seeing these shows on the big screen and AMC did a great job connecting both. Worlds collide as Morgan Jones crosses over from The Walking Dead and into the new world of Fear the Walking Dead. Watch as All Out War ends and new adventures begin and it seems Morgan Jones is the best character to provide that bridge. The theater management was great, too, taking pictures of attendees outside the theatre, and handing out exclusive event-only posters. I especially loved the exclusive, behind the scenes content you can only get if you attended The Survival Sunday event. They had previews of the new season, tons of interviews with cast members from both shows and even fan/cosplayer interviews about their speculations for the upcoming season, as well as what makes them love TWD universe so much. You can truly see how the Walking Dead cast and crew, not only love what they do, but they love and appreciate their fans.

Everyone involved did their best to make it feel like a special event, and if you get a chance to attend a Fathom Event, you definitely should.

I won't go through a plot synopsis, as you can get that anywhere but I will say that after the heavy-handedness of the season eight writing, the finale felt like it was done just right. I will avoid spoilers for those of you that have not caught up, but the confrontation between Rick's group and Negan's group finally came to a close last night. It was done with a few twists, some explosions, and with some exposition like we have come to expect from The Walking Dead. Many of the fan favorites survive but, to coin a favorite horror movie phrase, "Who Will Survive, and What Will Be Left of Them?" As with any apocalyptic show, no one left alive can walk away unscathed or unchanged, and all, most certainly, are unhinged. This is no exception, as the final minutes of the finale promises there will be blood in season nine.

Season four of Fear The Walking Dead begins with our bridge, Morgan (Lennie James; Snatch), world-weary and in jeopardy of losing himself to madness. He realizes that he must leave Rick (Andrew Lincoln; Love Actually) and the rest of his friends, in order to save himself.

Morgan decides the best medicine is to leave all responsibilities behind and run, and like Forrest Gump and he takes to the road. Like all good road movies, it isn't about the destination, it's about the journey, and this one proves to be an interesting one, packed with some colorful, new characters. Our protagonist finds himself in the company of do-gooders that can't seem to take no for an answer but who prove themselves useful if a tad gullible, an especially surprising trait to have in the apocalypse.

More than the acting and the solid story, I love the look and feel of Fear The Walking Dead's episode. Its sepia-toned bleakness provides a perfect sense of hopelessness and despair. The world itself is devoid of life. It looks desolate, and it looks apocalyptic. It looks like a perfect place to begin the next leg of the journey, not just for Morgan and his new friends but for the rest of the Walking Dead Universe. This episode feels like it's launching us into a new and much more desolate and desperate future. I, for one, am excited to see where the road takes us.

For more information about upcoming Fathom Events please visit their website at fathomevents.com.