Fear The Walking Dead (2015)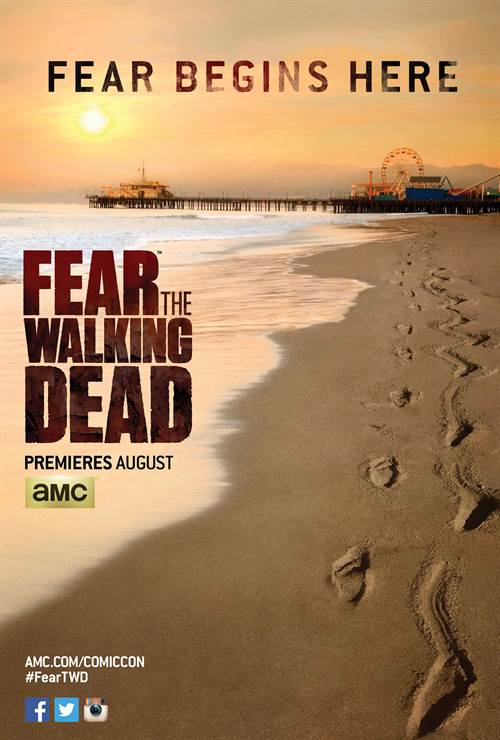 Share this:
| | |
| --- | --- |
| Created By: | |
| Cast: | |
| Air Date: | Sunday, August 23, 2015 |
| Studio: | AMC |
| Genre: | Television |
| Rating: | This program is specifically designed to be viewed by adults and therefore may be unsuitable for children under 17. |
Synopsis
Fear the Walking Dead, the companion series to The Walking Dead, is set in Los Angeles at the beginning of the zombie apocalypse. It takes us back to a time when the world was changing rapidly for reasons unknown, when life as everyone knew it was upended and altered in ways no one could have ever imagined.

Purchase DVD/Blu-ray/4K UHD physical copy of Fear The Walking Dead today at Amazon.com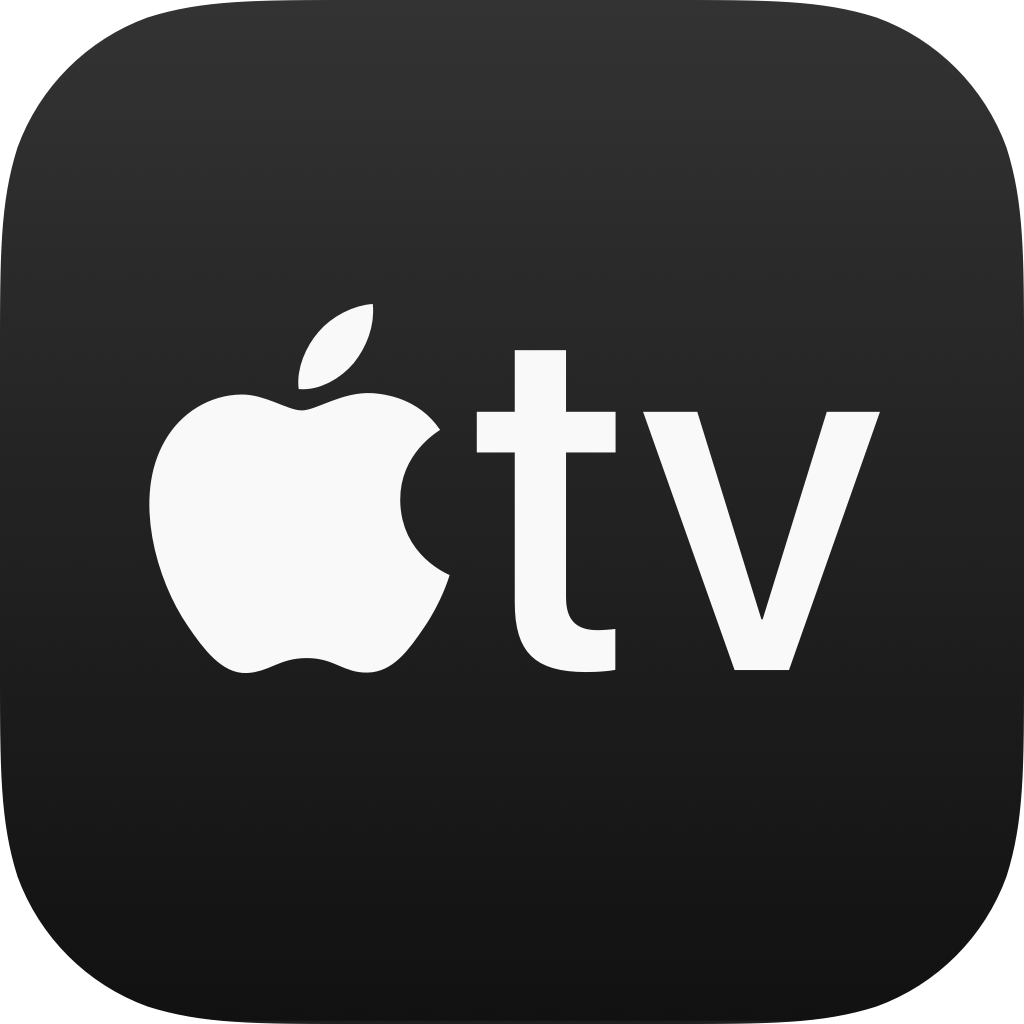 Download Fear The Walking Dead in Digital HD/4K from the iTunes store.
Fear The Walking Dead images are © AMC. All Rights Reserved.
AMC Developing Spinoff Tales of the Walking Dead
10/12/2021 3:32 PM EST
AMC has developed another spinoff series of "The Walking Dead" franchise.  The new series, which will premiere on AMC= and AMC, will be titled "Tales of the Walking Dead".The series will focus on characters, both new and established, set in "The Walking Dead" universe."The Walking Dead is a show that made television history and attracted an army of passionate and highly engaged fans. We see so muc...
More>>
Walking Dead/Fear the Walking Dead Fathom Event Does Not Disappoint
4/16/2018 11:55 AM EST
Fathom Events are always exciting and enjoyable for those who attend them, and on Sunday, April 15th, 2018, Fathom Events presented Survival Sunday. For those that are unfamiliar, Fathom Events is the home of cinematic experiences that offer high quality, affordable entertainment events broadcast to the big screen. Survival Sunday was a commercial-free, theatrical screening of the season eight fin...
More>>
Fear The Walking Dead: The Complete Third Season Blu-ray Review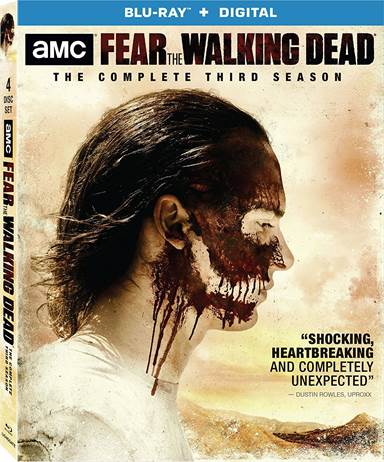 Fear the Walking Dead
took some time to walk on steady legs, but season 3 bolted out of the gate with the Military compound being overrun and quickly continues with the unexpected death of Travis Manawa (Cliff Curtis;
Live Free or Die Hard
) while eventually, Madison (Kim Dickens;
Gone Girl
) and her kids make it to the (relative) safety of the 'Broke Jaw Ranch'. Being fans of zombie horror, we all know that safety is just an illusion, and any place where Troy Otto (Daniel Sharman;
Teen Wolf
) holds power, is no safe place at all.
I won't sit here and bore everyone with an episode-by-episode synopsis, there's plenty of places where you can get that info, instead I'll just give my brief review of the season and then Blu-ray.
Firstly, the Writers did an excellent job pacing this season and moving the story forward, although it does lag in parts, mid-season, they did a respectable job tying up many loose ends as well as revealing many, seemingly lost characters, i.e. Daniel and Ofelia, not to mention pulling the many groups together: The Ranch is out of water and Daniel/Strand have the connection with the Dam. They even tackled some heavy subjects such as racism, as well as children paying for the sins of their fathers. In this case, the Otto's have some serious debts to repay and karma is certainly a bitch, in the apocalypse.
While I vacillated between like and hate in the previous 2 seasons, Season 3 seemed to be the most consistently action-packed and was definitely better written than its bloated and long-winded counterpart. Yet they still tried to draw a line to The Walking Dead and seem to be creating a prequel, of sorts, to its sister-show. I am still unsure how they plan to connect the two, and although teasers connect Morgan (Lennie James) to the show in Season 4, I will reserve judgment until I see it play out. All in all, Season three is the best for 'Fear', so far, and I hope they continue this trend.
On to the Blu-ray specifics, Fear the Walking Dead is encoded MPEG-4 AVC with an Aspect ratio of 1.78:1 1080p and as such, one should expect solid visuals through the entire season. The show is sharp and clear and little to no source flaws though some of the darker scenes seemed a little soft but overall there is nothing to complain about.

The Audio is Dolby TrueHD 5.1 and the soundscapes carry many of the scenes atmospheric content. I loved the sounds of combat, helicopters and many of the ambient noises brought the episodes to (un) life, especially the Zombie hordes and even the softer, dialog-driven scenes, are clear and bright. While not enough to send me running out to pick up the soundtrack, the music was lively and polished, as you would expect from a big-budget show.
The extras offered here aren't plentiful, but if you enjoy the commentary, as most fans do, you will appreciate "Eye of the Beholder", "Children of Wrath", and "Sleigh Ride". Each has co-producers Ericson and Bernstein as well as Kim Dickens, Coleman Domingo and Dayton Callie lending their anecdotes as well as performance stories and plenty of joking. You can tell there is great affection and comradery between the cast and producers and they provide a welcoming if standard commentary.
We also get Deleted and Extended scenes for eight of the episodes, and while they add a few nuggets to some of the characters, they aren't enough to positively impact the overall story, You can understand why they ended up being cut from each episode.
All in all, Fear the Walking Dead Season 3 is a great progression for this spinoff show. Most shows are seldom perfect, but here is a great example of the writers learning from their mistakes and improving on, a somewhat tired genre. For fans of the show and the zombie genre, in general, you are already set on picking this up. For those that are getting into the show, don't miss out on this season as it's the strongest out of the three, and at a retail price of $24.99, its priced right, too.
The action and tension built from the human drama is always more interesting to see; it is how these people behave during an unthinkable apocalypse which drives the story towards its gruesome conclusion. Fear the Walking Dead didn't forget that, while still providing plenty of gut-munching goodness, too. I hope they connect the two shows together in a meaningful and creative way and return to the roots of horror and action. Perhaps they can infuse some of their recent achievements into The Walking Dead, and reanimate that sleeping corpse.
Overall rating B+
Video
Codec: MPEG-4 AVC
Resolution: 1080p
Aspect ratio: 1.78:1
Original aspect ratio: 1.78:1
Audio
English: Dolby TrueHD 5.1
French: Dolby Digital 2.0
Subtitles
English SDH, Spanish
Discs
Blu-ray Disc
Five-disc set (5 BD-50)
Digital HD Copy
Read More Fear The Walking Dead Reviews
For more reviews please visit our film/television review section.
SPONSORED LINKS