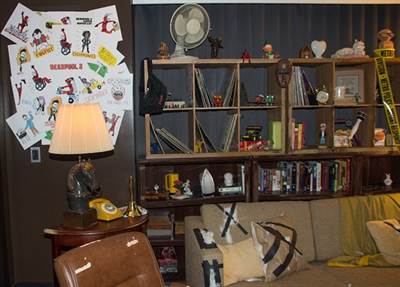 Are you a fan of the Merc with a mouth? Do you wonder what it would be like to hang out with him? Or crash at his (not so) luxurious pad? Well, one lucky individual got that opportunity at San Diego Comic-Con 2018 when Twentieth Century Fox Home Entertainment chose one winner for an overnight stay in the Deadpool suite.
Located in the Hard Rock hotel in the Gaslamp District of Downtown San Diego, the suite was made over to look like Wade's living room complete with a ratty old couch and Deadpool's drawing of his plans to rescue Firefist from the authorities. Of course, we also can't forget the half-finished Ikea furniture that laid broken in pieces.
The room also had lots of Easter eggs as well including a DVD copy of Green Lantern laying under the television set and a framed photo of Betty White in a scene from The Proposal (of course, both being two of Ryan Reynolds other films). There was also a stuffed Wolverine doll hung in a noose from the lamp. I'm sure one could have spent hours dissecting every inch of the outer suite to find all the little hidden gems.
While the bedroom wasn't part of the show, I'm told it was not made up in the same Wade/Deadpool fashion as the common area. However, although not confirmed, there is a rumor that the bedroom closet was filled with Superhero costumes. If it's true…how much fun would have that been!
For those of us in the press who were granted access to the suite, the experience was quite a bit of fun and rather entertaining. It was a great concept and a terrific marketing tool for the second film's release on Blu-ray and Digital download. As a bonus, anyone who was given the opportunity to visit the suite walked away with a Deadpool inspired toiletry bag including Hand Sanitizer, Shampoo, Poopourri Spray (so no one can smell what you are cooking) and a special treat for their readers…digital codes for winners to download both Deadpool and Deadpool 2 on August 3, 2018. Yes, you read that right so be sure to stop back to our website on August 3rd to try and win the code and download both amazing and hilarious movies for yourself.
Until then please enjoy our photo gallery of the Deadpool Suite form San Diego Comic Con 2018.