New Stranger Things Mazes Coming to Universal Studios' Halloween Horror Nights
Mar 27, 2019 01:11 PM EST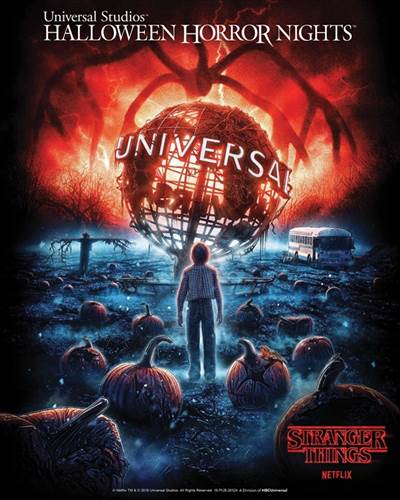 Universal Studios has announced that Netflix's supernatural thriller, "Stranger Things" will be returning to "Halloween Horror Nights" 2019 at Universal Studios Hollywood and Universal Orlando Resort. The attraction will feature all-new mazes inspired by Seasons 2 and 3 of the series. Universal Studios Hollywood and Universal Orlando Resort will be partnering up with Netflix, as well as the creators and executive producers of "Stranger Things" to create authentic representations of the blockbuster series.

This year's chilling mazes pick up where last year's mazes left off, continuing the suspenseful storyline where a predatory entity terrorizes the small town of Hawkins, Indiana, and delving even further into the parallel universe, referred to as the Upside Down.

The mazes on both coasts will also parallel the hit show as it leaps forward to 1985, taking guests on a terrifying excursion through portions of "Stranger Things 3," which begins streaming July 4 on Netflix.

Halloween Horror Nights will begin Friday, September 6 in Orlando and on Friday, September 13 in Hollywood. The annual event has taken place for over 25 years, and guests from around the world have come to experience what it's like to be inside their own horror film.

For more information, visit www.HalloweenHorrorNights.com.



Filed Under: universal studios, hhn, stranger things
SPONSORED LINKS