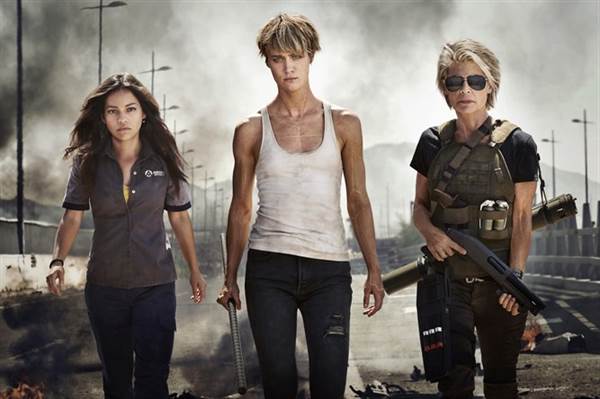 Mitch Neuhauser, Managing Director of CinemaCon, has announced that the cast of Terminator: Dark Fate, Linda Hamilton, Natalia Reyes, Mackenzie Davis, and Gabriel Luna, will receive this year's "CinemaCon® Ensemble Award." The will be presented with the award at CinemaCon on Thursday, April 4.

"With a cast that includes many familiar faces as well as talented newcomers, the next chapter of this blockbuster franchise is sure to entertain audiences around the globe. And, of course, it's great to have Linda Hamilton back in the franchise," noted Neuhauser. "We are thrilled to have the opportunity to honor this exciting cast with this year's 'CinemaCon Ensemble Award.'"

Terminator: Dark Fate will be released on November 1, 2019. We will see Linda Hamilton ("Sarah Connor") and Arnold Schwarzenegger ("T-800") return to their iconic roles. Directed by Tim Miller (Deadpool) and produced by visionary filmmaker James Cameron and Skydance's David Ellison, the film follows the events of Terminator 2: Judgment Day. In addition, Terminator: Dark Fate stars Mackenzie Davis, Natalia Reyes, Gabriel Luna, and Diego Boneta.

CinemaCon, the official convention of NATO, will be held April 1-4, 2019 at Caesars Palace in Las Vegas. The Coca-Cola Company is the official presenting sponsor of CinemaCon.