Terminator: Dark Fate (2019)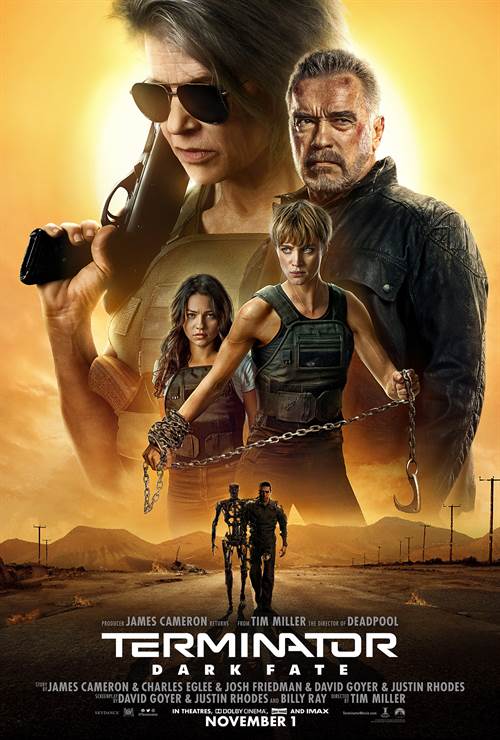 Share this:
| | |
| --- | --- |
| Director: | |
| Writers: | |
| Cast: | |
| Released: | Friday, November 1, 2019 |
| Length: | 128 minutes |
| Studio: | Paramount Pictures |
| Genre: | Sci-Fi/Fantasy, Action/Adventure |
| Rating: | Under 17 requires accompanying parent or adult guardian. |
Synopsis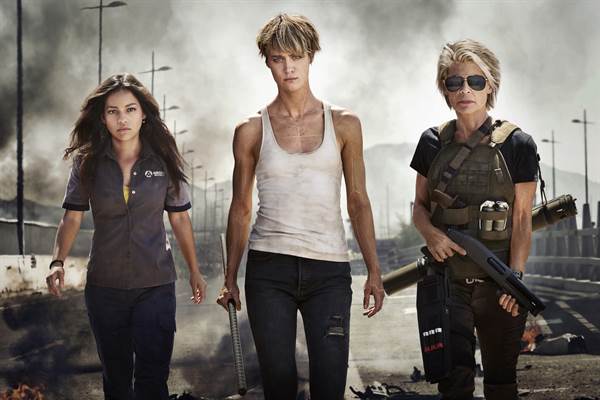 More than two decades have passed since Sarah Connor prevented Judgment Day, changed the future, and re-wrote the fate of the human race. Dani Ramos (Natalia Reyes) is living a simple life in Mexico City with her brother (Diego Boneta) and father when a highly advanced and deadly new Terminator – a Rev-9 (Gabriel Luna) – travels back through time to hunt and kill her. Dani's survival depends on her joining forces with two warriors: Grace (Mackenzie Davis), an enhanced super-soldier from the future, and a battle-hardened Sarah Connor (Linda Hamilton). As the Rev-9 ruthlessly destroys everything and everyone in its path on the hunt for Dani, the three are led to a T-800 (Arnold Schwarzenegger) from Sarah's past that may be their last best hope.

Purchase DVD/Blu-ray/4K UHD physical copy of Terminator: Dark Fate today at Amazon.com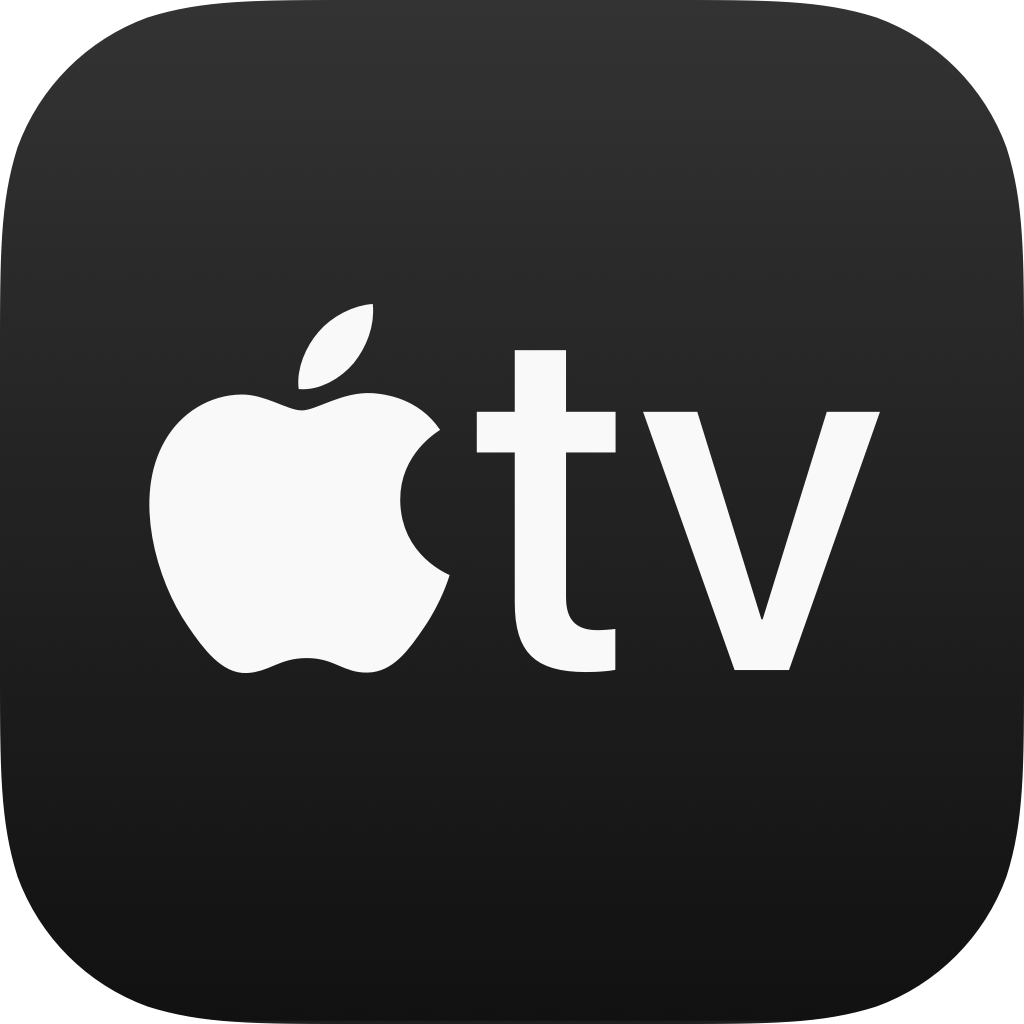 Download Terminator: Dark Fate in Digital HD/4K from the iTunes store.
Listen to the Terminator: Dark Fate soundtrack on Apple Music.
Terminator: Dark Fate images are © Paramount Pictures. All Rights Reserved.
30th Anniversary Terminator 2 Judgement Day 4K Release Coming in...
10/6/2021 4:32 PM EST
To commemorate the 30th anniversary of "Terminator 2: Judgement Day", Lionsgate is releasing the film on 4K Ultra HD™ Steelbook, exclusively at Best Buy. The set will hit shelves on November 23.The film is set 10 years after the events of the original film, "Terminator". Sarah Connor's ordeal is only just beginning as she struggles to protect her son, John - the future leader of the human resistan...
More>>
Terminator Anime Series in the Works for Netflix
2/26/2021 4:32 PM EST
It's been reported that Netflix has ordered a "terminator" anime series. The project is said to still be in the early stages of development."'Terminator' is one of the most iconic sci-fi stories ever created-and has only grown more relevant to our world over time. The new animated series will explore this universe in a way that has never been done before. We can't wait for fans to experience this ...
More>>
Win Terminator: Dark Fate 4K As Well as Other Terminator Swag fr...
1/24/2020 4:26 PM EST
Thirty-six years ago Arnold Schwarzenegger (Predator) and Linda Hamilton (Dante's Peak) starred in a futuristic, action film called The Terminator.  Little did they know it would spawn several sequels and become a beloved franchise.  Last year the latest installment, Terminator: Dark Fate showcased a whole new set of terminators as well as reenergized the story by introducing other strong female c...
More>>
Rewind: Nathan Rose's Top Picks For 2019 and The Decade in Film
12/18/2019 3:19 PM EST
It's that time of year again. All your favorite critics put out their list of favorite films for the year (and, in this case, for the decade as well). This year, I took a different approach where I will award the best film technically, as well as emotionally for me. The reason being, If you asked someone what the best picture of 1975 would be some would say Jaws, while others would say the Academy...
More>>
L.A. Premier of Terminator Dark Fate Canceled Due to Wildfires
10/28/2019 3:29 PM EST
The premiere of tonight's "Terminator: Dark Fate" in Losa Angels has been canceled due to the brush fires that have broken out in the area.A spokesperson for Paramount said, "In light of the ongoing, active fires being battled in the area, Paramount Pictures and Skydance have canceled tonight's Los Angeles premiere of 'Terminator: Dark Fate". We will be donating food intended for the after-party t...
More>>
Edward Furlong to Return as John Connor in Terminator Dark Fate
7/18/2019 4:12 PM EST
The "Terminator: Dark Fate" panel was held at Comic-Con today in Hall H and was packed with plenty of news.First off, we learned that Edward Furlong will be back to reprise his role as John Connor. Furlong played the character in 1991's "Terminator 2: Judgment Day" and has since been off the radar after struggling with addiction. The announcement was made by producer James Cameron, who was live vi...
More>>
Cast of Terminator: Dark Fate to Receive CinemaCon's Ensemble Award
3/28/2019 2:19 PM EST
Mitch Neuhauser, Managing Director of CinemaCon, has announced that the cast of Terminator: Dark Fate, Linda Hamilton, Natalia Reyes, Mackenzie Davis, and Gabriel Luna, will receive this year's "CinemaCon® Ensemble Award." The will be presented with the award at CinemaCon on Thursday, April 4."With a cast that includes many familiar faces as well as talented newcomers, the next chapter of this blo...
More>>
Linda Hamilton to Reprise Terminator Role for New Trilogy
9/20/2017 10:17 AM EST
It has been announced that Linda Hamilton, Arnold Schwarzenegger, and James Cameron will all be reunited for more Terminator films; a trilogy, in fact. Hamilton appeared in the original Terminator film as well as Terminator 2: Judgment Day."As meaningful as she was to gender and action stars everywhere back then, it's going to make a huge statement to have that seasoned warrior that she's become r...
More>>
More Terminator Films Expected In Future After Some "Readjustments"
10/7/2015 2:18 PM EST
Terminator:Genysis didn't fare as well as expected, but that doesn't mean we won't be seeing more films for the franchise. However, don't expect them to be released any time soon.Dana Goldberg, Skydance Media's chief creative officer, recently spoke at The Wrap's 6th Annual Media Leadership Conference TheGrill, about the franchise's future."I wouldn't say on hold, so much as re-adjusting", said Go...
More>>
Know Your Terminators Before You Go See Terminator Genisys
6/19/2015 12:59 PM EST
Terminator fans, It's time once again to brush off your best Arnie impersonation in anticipation of the latest release in the Series TERMINATOR: GENYSIS. Coming to Theaters in time for the Fourth of July Holiday weekend, TERMINATOR:GENYSIS once again starts Arnold Schwarzenegger alide Jason Clarke and Emilia Clarke in a battle to save the Human race.  To help you impress your friends and win every...
More>>
The Terminator Takes Over Waze Navigation
6/15/2015 1:49 PM EST
HOLLYWOOD, CA (June 15, 2015) - To celebrate the release of the highly anticipated film "TERMINATOR GENISYS," Paramount Pictures, Skydance Productions, Arnold Schwarzenegger and Waze (www.waze.com), have teamed up to give drivers around the world the ultimate voice navigation machine: Arnold Schwarzenegger as the 'Guardian' Terminator from "TERMINATOR GENISYS."Starting today, users of the world's ...
More>>
Schwarzenegger to Star in Terminator 6
2/25/2015 2:14 PM EST
Terminator Genisys will be released this summer, bringing about a new trilogy for the franchise. Arnold Schwarzenegger will be reprising his role for this year's film, but many wondered if he would make it into the other two. But the Terminator himself has now squashed any further doubt. When asked if he would be filming for Terminator 6, the actor answered, "Yes, of course, next year".  Great new...
More>>
Terminator: Dark Fate 4K Ultra HD Review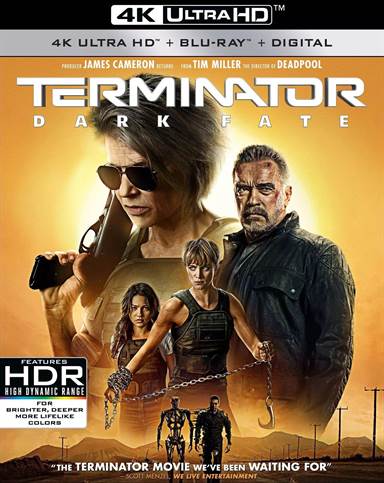 In 1984 James Cameron only had two directing credits to his name when he wrote The Terminator. Initially, the studios and the actors involved weren't very optimistic about the project but it became a hit worldwide and created a franchise that has spanned over thirty years. This past Fall the sixth installment hit movie theaters and once again saw the reunion of the Cyberdyne Systems model 101 (Arnold Schwarzenegger; Predator) and Sarah Connor (Linda Hamilton, Dante's Peak). Terminator: Dark Fate continues the saga of the fight of "man against machine" with great graphics and a kickass team of strong women including Hamilton. This week the movie becomes available for purchase on 4k, Blu-ray, DVD and Digital HD.
Daniella "Dani" Ramos ( Natalia Reyes; Birds of Passage) lives a simple life in Mexico where she is a factory worker. However, unbeknownst to her, a Cyborg from the future is coming to kill her in order to stop a revolution. Luckily, another time traveler, Grace (Mackenzie Davis; Blade Runner 2049), is also there to help Dani stay alive. Together they escape the factory where Dani works and where the "Terminator": REV-9 (Gabriel Luna; Agents of S.H.I.E.L.D.) has come to destroy her. Along the way, Grace and Dani are helped by a stranger…Sarah Connor (Hamilton) and the three of them manage to temporarily elude the REV-9.
However, Sarah and Grace both know that the REV-9 won't stop until Dani is dead so they travel to Laredo, Texas to enlist the help of a stranger. Only he isn't a stranger, at least not to Sarah. He is "Carl", the T-800 terminator who came to an earlier past and killed Sarah's son, John – the leader of the rebellion. Sarah immediately wants to kill him but he explains that he has learned compassion and he is sorry for what he did. Grace convinces Sarah that they need Carl to try and beat the REV-9 so the four of them formulate a plan to kill the cyborg and keep Dani alive.
This "reboot", if you will, isn't so much about the futuristic machines but rather about the females that kick ass and take names. Davis is mentally and physically strong like the modified soldier she portrays. Reyes starts the film as sweet and demure but steps up to fight when necessary and Hamilton is exactly as we remember from the original films. Of course, Schwarzenegger's appearance in the movie is expected but delightful. Sadly, it seems fairly obvious that this was his last Terminator film.
The 4K 2160p resolution with Dolby Vision HDR offers the best video quality one can get. The details are sharp and the colors are deep and true. The Dolby Atmos audio matches the video making for a fantastic visual and audio experience. The sound effects are layered and crisp and the dialogue is clean. The Combo pack comes with the following extras: Deleted and Extended Scenes, A Legend Reforged, World Builders, Dam Busters: The Final Showdown, and VFX Breakdown: The Dragonfly. The extras are there because fans would be upset if they weren't but it isn't necessary to watch them more than once.
I can't imagine the producers of the original film could have foreseen the franchise The Terminator has become. This latest chapter serves to move things along by highlighting the females in order to pass the legacy on to them. Unfortunately, it didn't as well as the box office as the studio would have hoped so it will be interesting to see if they make another film. I personally enjoyed this installment and I thought all three ladies were terrific and had great chemistry.
If you are a fan of the franchise and Schwarzenegger as the Terminator, then you should pick up this combo pack.
Grade: B+
Read More Terminator: Dark Fate Reviews
For more reviews please visit our film/television review section.
FlickDirect's Austin Putnam had a chance to sit down today to do a follow-up interview with on...

In a FlickDirect exclusive interview, Correspondent Allison Hazlett spoke to Terminator: Dark Fate s...

More than two decades have passed since Sarah Connor prevented Judgment Day, changed the future, and...
More than two decades have passed since Sarah Connor prevented Judgment Day, changed the future, and...

More than two decades have passed since Sarah Connor prevented Judgment Day, changed the future, and...

More than two decades have passed since Sarah Connor prevented Judgment Day, changed the future, and...
For this edition of This Weekend At The Movies, FlickDirect's Austin Putnam reviews TERMINATOR:...
SPONSORED LINKS