Terminator: Dark Fate (2019)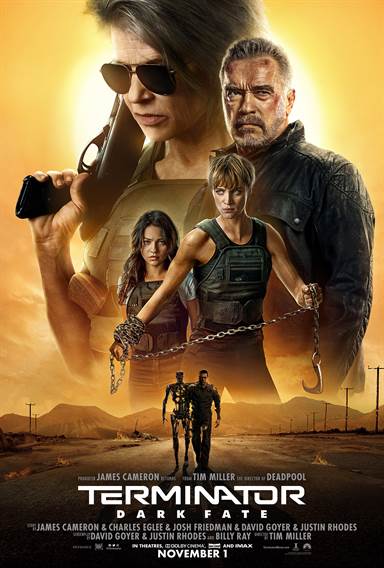 | | |
| --- | --- |
| Director: | |
| Writers: | James Cameron, Charles Eglee, Josh Friedman, David Goyer, Justin Rhodes, Billy Ray |
| Cast: | |
| Released: | Friday, November 1, 2019 |
| Studio: | Paramount Pictures |
| Genre: | Sci-Fi/Fantasy, Action/Adventure |
| Rating: | This Film Is Not Yet Rated |
Synopsis
Linda Hamilton ("Sarah Connor") and Arnold Schwarzenegger ("T-800") return in their iconic roles in Terminator: Dark Fate, directed by Tim Miller (Deadpool) and produced by visionary filmmaker James Cameron and David Ellison. Following the events of Terminator 2: Judgment Day, Terminator: Dark Fate also stars Mackenzie Davis, Natalia Reyes, Gabriel Luna, and Diego Boneta.
Terminator: Dark Fate images are © Paramount Pictures. All Rights Reserved.


Edward Furlong to Return as John Connor in Terminator Dark Fate
7/18/2019 4:12 PM EDT
The "Terminator: Dark Fate" panel was held at Comic-Con today in Hall H and was packed with plenty of news.First off, we learned that Edward Furlong will be back to reprise his role as John Connor. Furlong played the character in 1991's "Terminator 2: Judgment Day" and has since been off the radar after struggling with addiction. The announcement was made by producer James Cameron, who was live vi...
More>>
Cast of Terminator: Dark Fate to Receive CinemaCon's Ensemble Award
3/28/2019 2:19 PM EDT
Mitch Neuhauser, Managing Director of CinemaCon, has announced that the cast of Terminator: Dark Fate, Linda Hamilton, Natalia Reyes, Mackenzie Davis, and Gabriel Luna, will receive this year's "CinemaCon® Ensemble Award." The will be presented with the award at CinemaCon on Thursday, April 4."With a cast that includes many familiar faces as well as talented newcomers, the next chapter of this blo...
More>>
Linda Hamilton to Reprise Terminator Role for New Trilogy
9/20/2017 10:17 AM EDT
It has been announced that Linda Hamilton, Arnold Schwarzenegger, and James Cameron will all be reunited for more Terminator films; a trilogy, in fact. Hamilton appeared in the original Terminator film as well as Terminator 2: Judgment Day."As meaningful as she was to gender and action stars everywhere back then, it's going to make a huge statement to have that seasoned warrior that she's become r...
More>>
More Terminator Films Expected In Future After Some "Readjustments"
10/7/2015 2:18 PM EDT
Terminator:Genysis didn't fare as well as expected, but that doesn't mean we won't be seeing more films for the franchise. However, don't expect them to be released any time soon.Dana Goldberg, Skydance Media's chief creative officer, recently spoke at The Wrap's 6th Annual Media Leadership Conference TheGrill, about the franchise's future."I wouldn't say on hold, so much as re-adjusting", said Go...
More>>
Know Your Terminators Before You Go See Terminator Genisys
6/19/2015 12:59 PM EDT
Terminator fans, It's time once again to brush off your best Arnie impersonation in anticipation of the latest release in the Series TERMINATOR: GENYSIS. Coming to Theaters in time for the Fourth of July Holiday weekend, TERMINATOR:GENYSIS once again starts Arnold Schwarzenegger alide Jason Clarke and Emilia Clarke in a battle to save the Human race.  To help you impress your friends and win every...
More>>
The Terminator Takes Over Waze Navigation
6/15/2015 1:49 PM EDT
HOLLYWOOD, CA (June 15, 2015) - To celebrate the release of the highly anticipated film "TERMINATOR GENISYS," Paramount Pictures, Skydance Productions, Arnold Schwarzenegger and Waze (www.waze.com), have teamed up to give drivers around the world the ultimate voice navigation machine: Arnold Schwarzenegger as the 'Guardian' Terminator from "TERMINATOR GENISYS."Starting today, users of the world's ...
More>>
Schwarzenegger to Star in Terminator 6
2/25/2015 2:14 PM EDT
Terminator Genisys will be released this summer, bringing about a new trilogy for the franchise. Arnold Schwarzenegger will be reprising his role for this year's film, but many wondered if he would make it into the other two. But the Terminator himself has now squashed any further doubt. When asked if he would be filming for Terminator 6, the actor answered, "Yes, of course, next year".  Great new...
More>>
Arnold Schwarzenegger Reveals Latest Terminator Film Title
8/6/2014 3:19 PM EDT
Arnold Schwarzenegger has revealed, via Instagram, the title to the latest film in the "Terminator" franchise. Schwarzenegger is sitting in the picture, with the words "Terminator Genisys" emblazoned on the back of his chair. Check out the full pic here.In the post, Schwarzenegger thanked the cast and crew and said it was a "fantastic shoot. It was challenging, it was fun, and it was rewarding."Th...
More>>
Arnold Schwarzenegger On Terminator Genesis Film
3/18/2014 9:49 AM EDT
Arnold Schwarzenegger recently spoke about his upcoming film, "Terminator Genesis"; something he has been a bit tight lipped about.  "The way it reads, it has the same feel of Terminator 2. It's big. There's hardcore action and it has some really great visual effects in there, but not over the top. It's not a Thor type of movie, even though it's the same director. It has good special effects, but ...
More>>
Jai Courtney to Star in Terminator Reboot
2/19/2014 3:45 PM EDT
Jai Courtney, who starred in "A Good Day to Die Hard" and "Jack Reacher", has been cast as Kyle Reese in the upcoming "Terminator" reboot.The film will also star Emilia Clarke, who will be playing Sarah Connor and Jason Clarke, who will be playing John Connor.  The new trilogy will be directed by Alan Taylor.  No plot details have been revealed yet....
More>>
Terminator Series To Be Launched in 2015 Along With Feature Film
12/6/2013 4:19 PM EDT
Skydance Prods. and Annapurna Pictures will be releasing a "Terminator" series in conjunction with the film that will be released in 2015.The show will follow the 1984 film, but will be going in a completely different direction. The same is expected for the upcoming trilogy, but no plot details have surfaced for that as of yet. The new trilogy and series stories will be intertwined , much like Mar...
More>>
Terminator Series to be Rebooted
6/28/2013 1:00 PM EDT
The Terminator will be back! Skydance Productions, Annapurna Pictures and Paramount Pictures have announced a joint venture for a rebooted "Terminator" movie, to be released on June 26, 2015.The original 1984 "Terminator" movie, which starred Arnold Schwarzenegger as the lead, went on to spawn a trilogy that took over $1billion worldwide at the box office.It was also announced that the movie will ...
More>>
Terminator: Dark Fate images © Paramount Pictures. All Rights Reserved.
In a FlickDirect exclusive interview, Correspondent Allison Hazlett spoke to Terminator: Dark Fate s...

Linda Hamilton ("Sarah Connor") and Arnold Schwarzenegger ("T-800") return i...

Linda Hamilton ("Sarah Connor") and Arnold Schwarzenegger ("T-800") return i...
Linda Hamilton ("Sarah Connor") and Arnold Schwarzenegger ("T-800") return i...
SPONSORED LINKS
Comments

Courtesy of
Movie Hype App
mattgrass38
Could be like the very first
5/23/2019 10:28 PM EDT
hitz
Yes yes yes !!!
6/15/2018 8:47 PM EDT
hammer72
Yes!!!!
3/8/2018 11:22 PM EDT