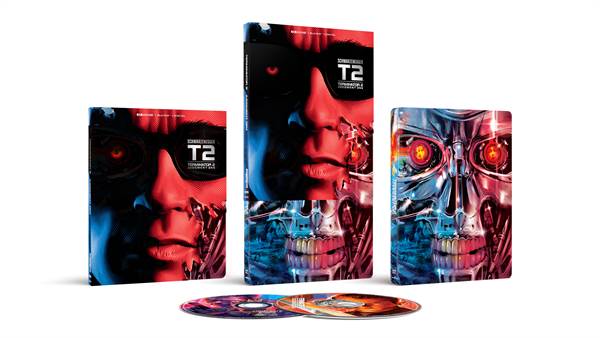 To commemorate the 30th anniversary of "Terminator 2: Judgement Day", Lionsgate is releasing the film on 4K Ultra HD™ Steelbook, exclusively at Best Buy. The set will hit shelves on November 23.
The film is set 10 years after the events of the original film, "Terminator". Sarah Connor's ordeal is only just beginning as she struggles to protect her son, John - the future leader of the human resistance against the machines - from a new Terminator, sent back in time to eliminate him while he's still a child. Sarah and John don't have to face this terrifying threat alone, however. The human resistance has managed to send them an ally, a warrior from the future ordered to protect John Connor at any cost. The battle for tomorrow has begun. The film stars Arnold Schwarzenegger, Linda Hamilton, Edward Furlong, and Robert Patrick.
The set includes all-new artwork from artists Orlando Arocena and Tracie Ching, as well as the following special features:
* NEW 55 minute T2 documentary featuring Arnold Schwarzenegger, James Cameron, Edward Furlong, and more.
* 2 Deleted Scenes with Audio Commentary
* 2 Feature Commentaries
* "The Making of T2" 30-Minute Featurette
* View 3 Different Versions of the Film
* Trailers
To preorder this set, head over to Best Buy.