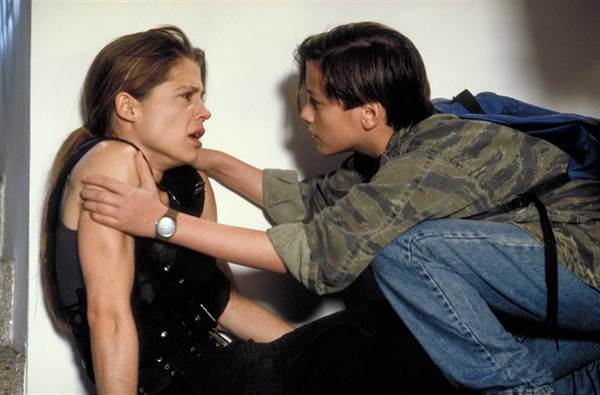 The "Terminator: Dark Fate" panel was held at Comic-Con today in Hall H and was packed with plenty of news.

First off, we learned that Edward Furlong will be back to reprise his role as John Connor. Furlong played the character in 1991's "Terminator 2: Judgment Day" and has since been off the radar after struggling with addiction. The announcement was made by producer James Cameron, who was live via video chat from New Zealand. He is there working on the Avatar sequels. Also returning will be Linda Hamilton, who also last starred at the role of Sarah Connor in "Judgement Day". In order to plead his case, Cameron sent a note to Hamilton, saying, "I think the key point in the pro column was people love you in this character. It was so iconic and I think the fans just want to know what's she like now? What's her life been like in the meantime?" And, last, but certainly not least, Arnold Schwarzenegger will, of course, return as the Terminator.

Director Tim Miller also announced that the film will indeed be "R" Rated, even though there had been talk of making it a PG-13 film. This made fans very happy.

"I had a whole other plan in case it didn't go R. The thing is the DNA of Terminator is an R-rated fucking movie", said Miller.

"Terminator: Dark Fate" will pick up after where T2 left off, with the three films in between to be ignored.

The film is slated for a November 1 release.