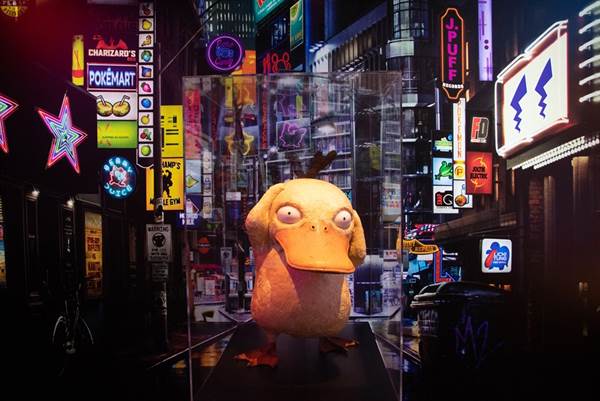 One of the best parts of exploring the Gaslamp district in downtown San Diego during Comic-Con is all the activations that are available to enjoy. Television networks and movie studios spare no expense bringing some of their best entertainment to the streets for people to experience. This year, Warner Bros. studios want fans of Pokemon Detective Pikachu and Shazam! to have fun and have created two activations for everyone to come to relive moments from both films. Located outside the Omni Hotel, across from the San Diego Convention Center, the activations are colorful, family-friendly fare that entice passersby to want to stop and partake of the festivities.
Walking into Pokemon Detective Pikachu guests are surrounded by the sights and sounds of the film. First up is the train to Rhyme City which makes its way to the market outside of Tim's Dad's apartment complete with the food cart. Next is Howard Clifford's office, which offers artifacts from the film, and finally a yellow, fur-lined room where you can get your picture with Pikachu and spin a wheel to try and win a prize. The few minutes in the experience highlight some of the best scenery in the film and bring you back to the enjoyment of the movie.
Next is the Shazam! activation. Here guests walk into a carnival where they are given tickets from the ticket booth at the entrance which they can use to play carnival games. One can choose from the ring toss, ping pong ball toss, bean bag toss, and finally, the basketball throw. Depending on how many rings, ping pong balls, bean bags, or basketballs you make on/into the peg/net, will determine what prize you win. While most will walk away with a foam lightning bolt others will be lucky enough to get a Shazam! fanny pack. While all the games are fun the best, in my opinion, is the ring toss.
Both activations are great and have lots of details from the movies for fans to see. Warner Bros. once again brings their A-game to Downtown San Diego and we, the fans, are the lucky ones to enjoy it. The activations will be open daily through Sunday afternoon as part of the Comic-Con offerings.

Shazam! is currently out on Digital HD and Pokemon Detective Pikachu comes out July 23rd, 2019 on Digital HD at all your online retailers.