POKÉMON Detective Pikachu (2019)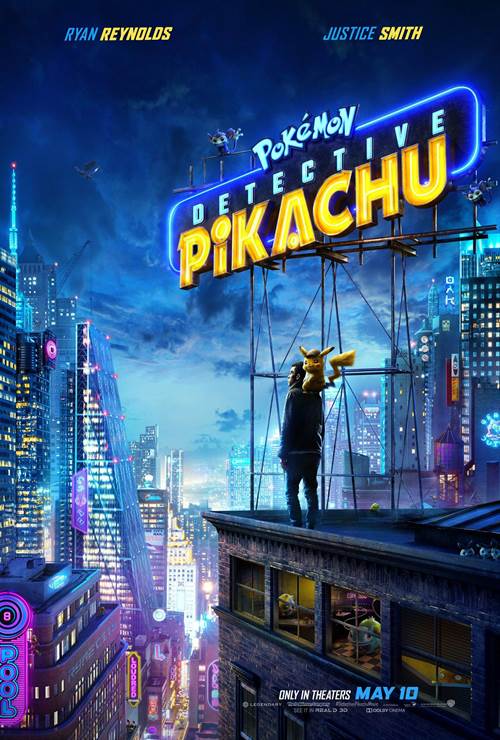 Share this:
| | |
| --- | --- |
| Director: | |
| Writers: | |
| Cast: | |
| Released: | Friday, May 10, 2019 |
| Length: | 104 minutes |
| Studio: | Warner Bros. |
| Genre: | Family |
| Rating: | Some material may not be suitable for children. |
Synopsis
The world of Pokémon comes to life! The first-ever live-action Pokémon adventure, "POKÉMON Detective Pikachu" stars Ryan Reynolds as Pikachu, the iconic face of the global Pokémon phenomenon—one of the world's most popular, multi-generation entertainment properties and the most successful media franchise of all time.

Fans everywhere can now experience Pikachu on the big screen as never before, as Detective Pikachu, a Pokémon like no other. The film also showcases a wide array of beloved Pokémon characters, each with its own unique abilities and personality.

The story begins when ace detective Harry Goodman goes mysteriously missing, prompting his 21-year-old son Tim to find out what happened. Aiding in the investigation is Harry's former Pokémon partner, Detective Pikachu: a hilariously wise-cracking, adorable super-sleuth who is a puzzlement even to himself. Finding that they are uniquely equipped to communicate with one another, Tim and Pikachu join forces on a thrilling adventure to unravel the tangled mystery. Chasing clues together through the neon-lit streets of Ryme City—a sprawling, modern metropolis where humans and Pokémon live side by side in a hyper-realistic live-action world—they encounter a diverse cast of Pokémon characters and uncover a shocking plot that could destroy this peaceful co-existence and threaten the whole Pokémon universe.

"POKÉMON Detective Pikachu" also stars Justice Smith ("Jurassic World: Fallen Kingdom") as Tim; Kathryn Newton ("Lady Bird," TV's "Big Little Lies") as Lucy, a junior reporter following her first big story; and Oscar nominee Ken Watanabe ("Godzilla," "The Last Samurai") as Lt. Yoshida.

Directed by Rob Letterman ("Goosebumps," "Monsters Vs. Aliens"), the "POKÉMON Detective Pikachu" creative filmmaking team includes two-time Oscar-nominated director of photography John Mathieson ("The Phantom of the Opera," "Gladiator"), production designer Nigel Phelps ("Pirates of the Caribbean: Dead Men Tell No Lies") and Oscar-winning editor Mark Sanger ("Gravity"). Visual effects are by Moving Picture Company ("Wonder Woman") and Framestore ("Guardians of the Galaxy Vol. 2").

Launched in 1996 to overwhelming response, the Pokémon brand is a global sensation that now encompasses a robust video gaming fandom with over 300 million units sold worldwide; trading card games available in 11 languages with more than 23.6 billion cards purchased; an anime television series in its 20th season that is available in 98 countries; and animated films that have grossed more than $700 million at the box office; as well as books, manga comics, music, toys, merchandise, and apps, including the wildly popular Pokémon GO, that has been downloaded over 650 million times and is enjoyed across the globe by fans of all ages.

Purchase DVD/Blu-ray/4K UHD physical copy of POKÉMON Detective Pikachu today at Amazon.com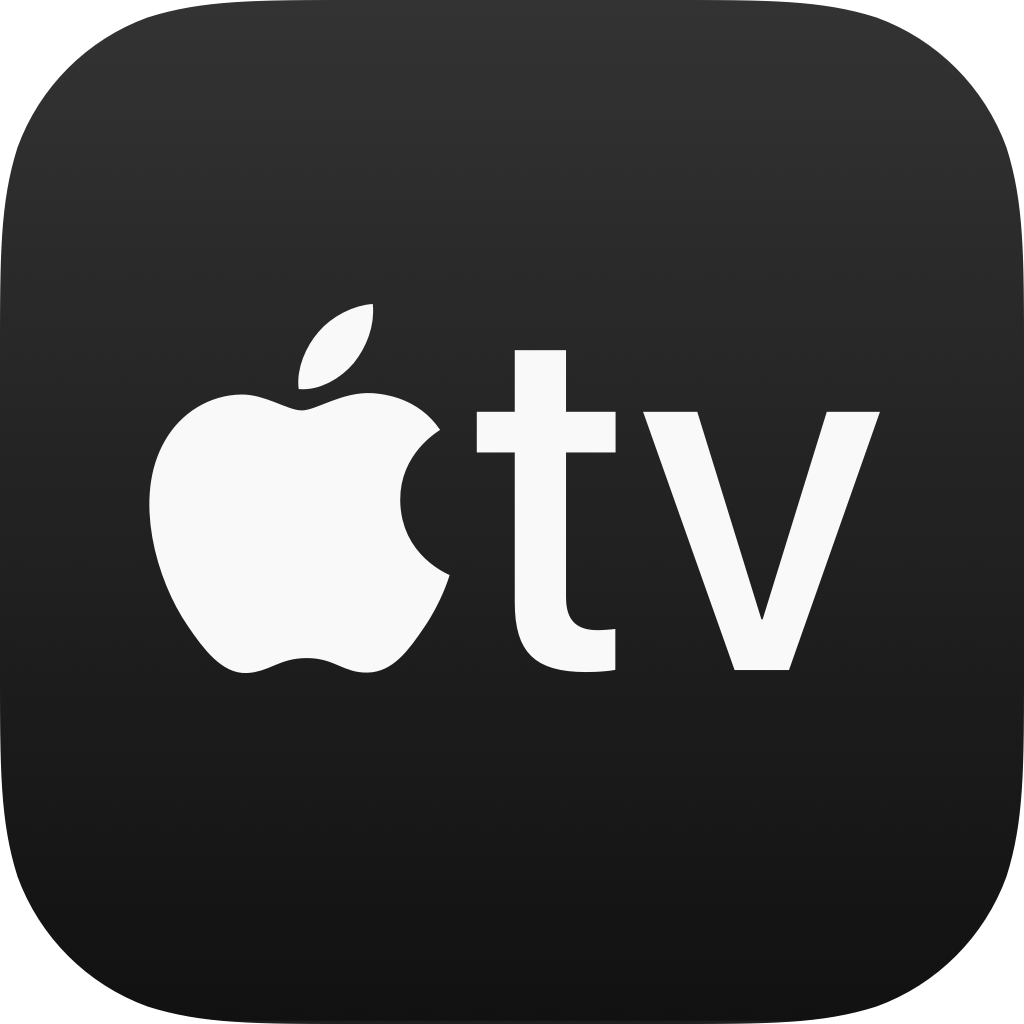 Download POKÉMON Detective Pikachu in Digital HD/4K from the iTunes store.
POKÉMON Detective Pikachu images are © Warner Bros.. All Rights Reserved.
Pokemon Detective Pikachu and Shazam! Are Some of The Highlights...
7/20/2019 2:07 PM EST
One of the best parts of exploring the Gaslamp district in downtown San Diego during Comic-Con is all the activations that are available to enjoy. Television networks and movie studios spare no expense bringing some of their best entertainment to the streets for people to experience.  This year, Warner Bros. studios want fans of Pokemon Detective Pikachu and Shazam! to have fun and have created tw...
More>>
Warner Bros. Home Entertainment Bringing Pikachu and Shazam to C...
7/2/2019 2:28 PM EST
Warner Bros. Home Entertainment is bringing their "A" game to Comic-Con 2019 with their amazing activations that will allow guests to explore two different worlds!First up is a chance for guests to experience the magic of Ryme City in an immersive walkthrough pop-up based on the hit film Pokémon Detective Pikachu with Instagrammable moments including, the neon cityscape, Ryme City marketplace, fil...
More>>
POKÉMON Detective Pikachu Trading Card Event to Take Place Openi...
4/19/2019 12:55 PM EST
POKÉMON Detective Pikachu will be released on May 9 and to commemorate the event, there will be a special limited edition Detective Pikachu trading card release.Through this first weekend and while supplies last, each guest will receive an exciting two-card pack from the new Pokémon TCG: Detective Pikachu series of collectible trading cards from The Pokémon Company International. One card will be ...
More>>
POKÉMON Detective Pikachu Theatrical Review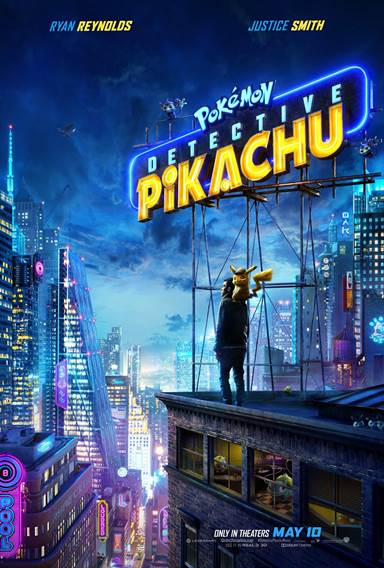 If you are a child of the '90s or are the parent of one then you are surely aware of what Pokemon are. These fictional creatures live in the Pokemon Universe (of course) and have human trainers who catch them and prepare them to battle each other for sport. Each one has unique powers that they can use when fighting. This concept with these adorable creatures captured hearts and imaginations making the franchise is one of the highest grossing media franchises of all time with over $90 billion in revenue. There are video games, trading cards, television shows, books and now, thanks to Warner Bros. and Legendary Pictures, a feature film.
Tim Goodman (Justice Smith; Jurassic World: Fallen Kingdom) is an ordinary guy - so ordinary in fact that he is an insurance salesman. In his youth, he was a Pokemon trainer though but left all that behind. That is until one day he gets a call from the Rhyme City Police department telling him his estranged father was killed in a car accident. Tim heads to Rhyme City to pack up his father's things and put the past behind him for good. However, when clearing out his dad's apartment he comes face to face with Pikachu (Ryan Reynolds; Deadpool), his father's Pokemon partner, whom he can somehow understand.
Pikachu has amnesia and needs Tim's help to find out what happened to him and Harry. Reluctantly Tim agrees and the two begin an adventure using clues found in Harry's apartment including a vial full of gas that makes Pokemon go crazy and become aggressive. They soon discover that Harry was on to something and was probably killed for what he knew. They follow the clues to a secluded lab only to find Pokemon that were being experimented on and modified…but by whom?
When I saw the trailer for this film, it seemed as if Deadpool had been eaten by a small, furry, yellow creature since the voice was obviously the same and the dialogue seemed similar. However, that is not the case here and after a few minutes, you forget you are listening to Reynolds' voice and just focus on the words making this probably one of Reynold's stronger performances. Smith does a pretty good job considering he was probably speaking to a stuffed toy for most of the filming. Kathryn Newton (Three Billboards Outside Ebbing, Missouri) delivers a quirky performance as the media intern who helps Tim investigate his dad's disappearance and Bill Nighy (Pirates of the Caribbean: Dead Man's Chest) is good as the founder of Rhyme City.
Probably the biggest downfall of Pokemon Detective Pikachu is that for me at least, it was very predictable. The surprises were not a surprise to me and seemed fairly obvious. However, the graphics are terrific, especially on the Pokemon. Pikachu is absolutely adorable and I can see stuffed versions becoming one of the hot toys buys for the summer. The graphic artists did a superb job of creating each strand of fur on his cute yellow coat and explosions and fire are well done as well.
If you are a fan and know the Pokemon world and all its creatures then you will love this movie. If you are not, you will still enjoy it but you won't necessarily understand some of the inside jokes and Easter eggs are hidden in the film. The nostalgia factor for kids of the 1990s in itself will bring audiences to theaters but it is going to be interesting to see if Pokemon Detective Pikachu can dethrone the current top box office spot holder…Avengers: Endgame.
Grade: B
For more reviews please visit our film/television review section.
For today's home video review, FlickDirect's Austin Putnam gives his thoughts on the home vi...

The world of Pokémon comes to life! The first-ever live-action Pokémon adventure, "POKÉMON Detective...

The world of Pokémon comes to life! The first-ever live-action Pokémon adventure, "POKÉMON Detective...
SPONSORED LINKS