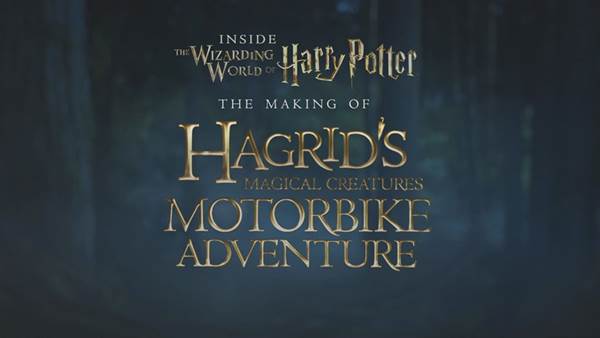 Hagrid's Magical Creatures Motorbike Adventure debuted this summer at The Wizarding World of Harry Potter at Universal Orlando and, now, Harry Potter fans and fans of the ride can take a behind-the-scenes look on the creation of the world's first "story coaster" during the NBC primetime broadcast of "Harry Potter and the Deathly Hallows - Part 2" on Saturday, September 7 at 8 p.m. EDT.

viewers will see a series of segments that will give them a glimpse into how the incredibly-popular new attraction was brought to life. Segments will feature interviews with members of the Universal Creative team who worked on the new experience and beloved stars from the Harry Potter films who had the chance to ride it themselves. It will also showcase the creation of the Forbidden Forest, the Blast-Ended Skrewt - a creature that has never been featured in the films; and Hagrid - one of the most life-like animated figures Universal Orlando has ever created.

Hagrid's Magical Creatures Motorbike Adventure takes guests on a journey into the Forbidden Forest. With Hagrid as their guide, they'll board magical motorbikes and fly to the edge of the forest to discover the Wizarding World's rarest magical creatures. Along the way, they'll ascend above the trees, launch through mysterious ruins, rush forward - and backward - at speeds up to 50 mph, unexpectedly drop nearly 17 feet and more while enjoying a thrilling adventure on the longest roller coaster in Florida.

Be sure to check out this broadcast on Saturday, September 7 at 8 p.m. EDT on NBC!