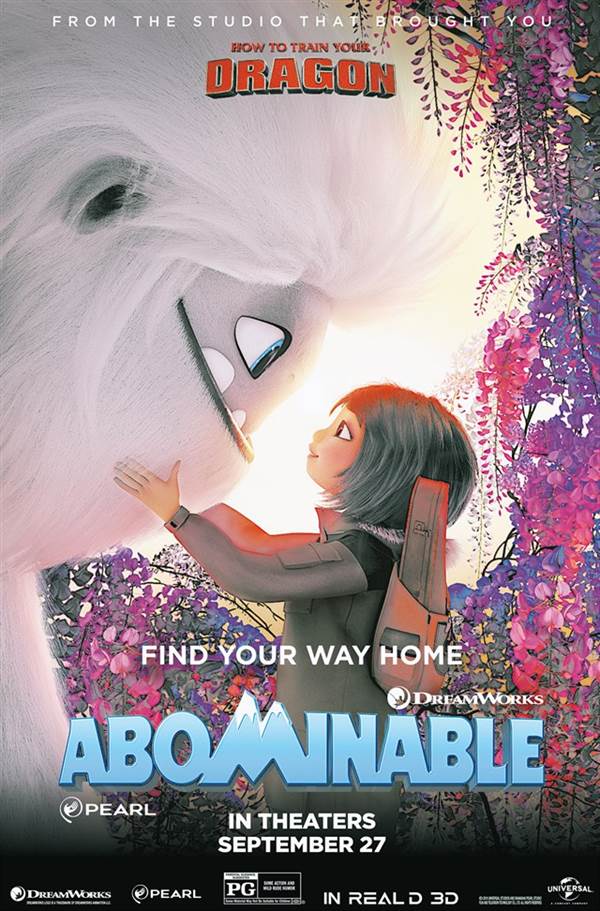 This fall, follow your heart, discover your magic and find where you belong.
From Universal Pictures and DreamWorks, who brought you How to Train Your Dragon, comes ABOMINABLE. They, in conjunction with FlickDirect, want to give some lucky winners the opportunity to see an Advance Screening of the film before it is released nationwide on September 27, 2019.
To enter simply follow FlickDirect Florida on Instagram and comment on the photograph of our own Allison Rose with Everest the Yeti. Then send an email to contest@flickdirect.com (Subject: ABOMINABLE Contest) with your username for verification.
We will choose entries at random to win one admit-two pass to see ABOMINABLE on Saturday, September 21, 2019, at 10:00 am at Cinemark Boynton Beach 14.
DreamWorks Animation and Pearl Studio's co-production Abominable takes audiences on an epic 2,000-mile adventure from the streets of Shanghai to the breathtaking Himalayan snowscapes.
When teenage Yi (Chloe Bennet, Marvel's Agents of S.H.I.E.L.D.) encounters a young Yeti on the roof of her apartment building in Shanghai, she and her mischievous friends, Jin (Tenzing Norgay Trainor) and Peng (Albert Tsai), name him "Everest" and embark on an epic quest to reunite the magical creature with his family at the highest point on Earth.
But the trio of friends will have to stay one-step ahead of Burnish (Eddie Izzard), a wealthy man intent on capturing a Yeti, and zoologist Dr. Zara (Sarah Paulson) to help Everest get home.
ABOMINABLE is written and directed by Jill Culton (Open Season, Monsters, Inc., Toy Story 2) and is produced by Suzanne Buirgy (Kung Fu Panda 2, Home). Peilin Chou of Pearl Studio also produces. The film is executive produced by Tim Johnson (Over the Hedge, Home, ANTZ), Frank Zhu (Checked In, Lotus Code) and Li Ruigang (Kung Fu Panda 3, The Taking of Tiger Mountain) and is co-directed by Todd Wilderman (Trolls, The Croods).
ABOMINABLE will be released by Universal Pictures worldwide beginning September 27, 2019. In China, the film will be distributed by Pearl.
Contest ends September 18, 2019. For more information, please visit the ABOMINABLE movie page on FlickDirect or the official website at https://www.universalpictures.com/movies/abominable.
Rated: PG
NO PURCHASE NECESSARY. Limit one (1) admit-two pass per person. This film is rated PG. Must be 13 years of age or older to win passes. Employees of all promotional partners and their agencies are not eligible. Void where prohibited. Entries must be received by 11:59 pm on September 18, 2019, to be eligible to receive a pass. Winners will be contacted via e-mail to receive their pass. Sponsors not responsible for incomplete, lost, late or misdirected entries or for failure to receive entries due to transmission or technical failures of any kind. SEATING IS LIMITED, SO ARRIVE EARLY. PASS DOES NOT GUARANTEE A SEAT AT THE SCREENING. Refer to screening pass for further restrictions. ONE ENTRY PER PERSON.
Facebook: https://www.facebook.com/abominablethemovie/
Instagram: https://www.instagram.com/abominablemovie/
Twitter: https://twitter.com/dwanimation/
#AbominableMovie