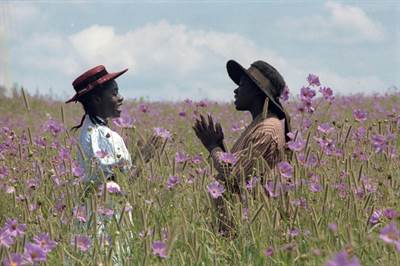 Steven Spielberg's The Color Purple was released in 1985 and introduced moviegoers to Whoopi Goldberg and Oprah Winfrey. Now, to commemorate the film's 35th anniversary, it will return to theatres for one day this February.
Brought to fans by Fathom Events, Turner Classic Movies, and Warner Bros., this event will take place throughout the U.S. on Sunday, February 23, 2020, at 1:00 p.m. and 5:00 p.m. (local time). To find a participating theatre near you and buy tickets, go to www.FathomEvents.com.
Prior to and after the film, TCM Primetime host Ben Mankiewicz will provide new commentary and insight into the making and legacy of this unforgettable movie.

The unforgettable characters of Alice Walker's Pulitzer Prize-winning novel brighten the screen in this rhapsodically cinematic adaptation, directed by Steven Spielberg. At the center of the tale is Celie (Whoopi Goldberg, in her Oscar®-nominated movie debut), whose search for fulfillment in a world closed to her becomes a triumph of cruelty overcome by love, of pain, eclipsed by joy. Acting and filmmaking honors all came to The Color Purple upon its initial release in 1985, with an outstanding supporting cast including Danny Glover, Margaret Avery, and Oprah Winfrey. It is a timeless film that remains a powerful and unforgettable cinematic masterpiece.

Goldberg, Winfrey, and Avery each were nominated for an Oscar, among the film's 11 nominations, which also included Best Picture, Writing (Menno Meyjes, Screenplay Based on Material from Another Medium) and Original Score. The Color Purple received NAACP Image Awards for Best Picture and Best Actress and was named Best Film of 1985 by the National Board of Review.