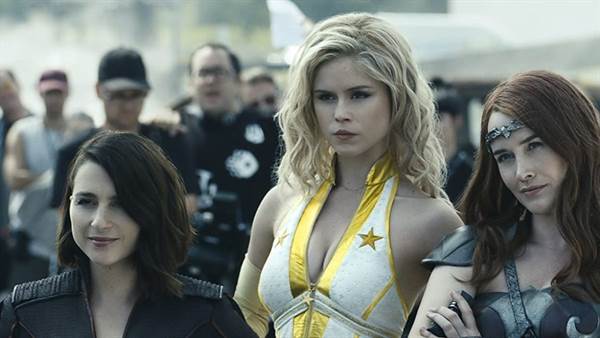 If you are a fan of the Amazon series The Boys, you have no doubt already watched most of Season Two and are highly anticipating, not only the last two episodes of this season but Season Three, as well as, the spin-off series announced last month. Ironically, for a show titled The Boys, Season Two seems to revolve around the girls, especially a jacked-up promotional campaign from Vought, which appears in the second episode of the season, entitled "Girls Get It Done". To help explain exactly what that means for their sophomore season, the ladies of The Boys spoke about "getting it done" and the continued empowerment of women the show projects.
Stormfront/Liberty, portrayed by Aya Cash (The Wolf of Wall Street), is definitely one of the stronger characters who doesn't get pushed aside by Homelander (Antony Starr; Wish You Were Here). She has an agenda and doesn't seem to care if she hurts anyone who gets in her way. When specifically asked about the growing tension between her and the other female characters on the show she stated, " Stormfront definitely hasn't made any friends with the women on the show…There is tension brewing between everybody and some of them are strong superheroes so I think you might see people come to blows."
To reiterate this point Cash follows up with a cryptic message about the end of the season. "There is a really fun fight scene coming up. It's wild and epic". When asked she also addressed her concerns about playing this part and the revelations made in season two about Stormfront's past. "I was aware of the complications of the role and what it was going to be shining a light on and I was apprehensive since there weren't any scripts, but I had faith in (show creator) Erik Kripke (Supernatural)".
Erin Moriarty (Captain Fantastic), who plays Starlight/Annie on the show, had her own thoughts about the female characters on the show. "I hope that they would have the chance to take down Homelander. Her counterpart, Karen Fukuhara (Suicide Squad) then suggested "poisoned milk". Moriarty loved this idea but interjected that there would have to be some kind of fight scene first.
All of the ladies, when asked about "Girls Get It Done", seemed to have similar yet still unique ideas as to how their characters interpret the theme. For Ashley (Colbie Minifie; Jessica Jones), "[she] is excited to be getting this brand-new job but she basically has no power and her life is on the line. For her, Girls get it done is a brilliant tagline she came up with as Stormfront was just dropped on her doorstep." For Cash, "[It's] a cutesy, corporate catchphrase that Stormfront thinks is nonsense."
Moriarty sees the humor in it all. "The irony of this thing that is going on called girls get it done is Vought's idea, but which is one of the most misogynistic corporations and are continually objectifying women". Since Becca (Shantel VanSanten; One Tree Hill) doesn't have superpowers, for her, girls get it done takes a different slant. "[Becca's] entire life, ever since finding out she was pregnant after being raped, is about getting it done. She is finding redemption and fighting for this child's life to be different than his father's. Maybe redeem the supe world a little".
VanSanten also offers a glimpse of what fans can expect at the end of Season Two "We're not ever left to feel good about the end of the season. We didn't in Season One and We won't in Season Two. I don't feel settled or ok with the ending, so I have to hope that as the story continues, we get moments of redemption and healing".

If that isn't a cryptic message as to what is yet to come, I don't know what is. Season Two will air its final episode on Friday, October 9, 2020, so if you haven't started Season Two yet, you only have a few days to binge-watch the first seven episodes. If you are all caught up to this point…buckle up, it's sure to be a bumpy ride!