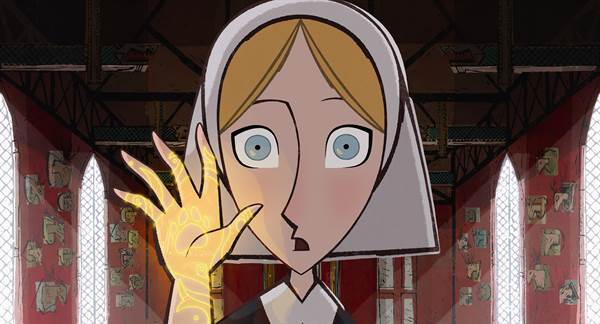 "[It} was something consciously cooked up by Ross (Stewart; Paranorman) and myself…We wanted to make a third film in this trilogy of films that started with the Secret of Kells", explains Producer/Director Tomm Moore. "Ross and I made a list of things in a notebook…that we were passionate about…species extinction and habitat destruction and we talked about the time period, 1650's in Ireland that was still very forested and known for wolves."
From there the two thought about the look and feel of the movie. Everything had a purpose including the "shape Language". Tomm stated, "[We wanted you] to tell the difference [between the wolves and the town]. The soldiers are almost like clockwork, like robotic, then Robyn is between the worlds. She has all the angles but she's also spritely like a Bambi. And then Mebh is all curves and rounded and close to the ground and earthy." Ross continues, "It plays into the whole art direction of the film. There are two worlds. One is all control and order and turning all the people into robots… and the forest is all freedom and instincts and wildness."
Elaborating even more, when asked about the hand-drawn animation, Wolfvision Lead Eimhin McNamara (Disjointed) stated, "Specific to this project…, we needed to create a moving camera feeling that was still integrated to the overall look of the film… The nice thing about working with technology these days is it's not an either-or scenario. You can use one thing to augment (the other)".
There were also other contrasts addressed in the movie such as the battle between something magical and religion. Ross spoke to this "battle" as he explained, "We're not really anti-religion…but the Lord Protector uses it as a way to control society and tame nature and have dominion over nature as part of his Godly work…(he) is based on Oliver Cromwell who invaded Ireland…and he led a fairly ruthless campaign to make the wolves extinct and destroy Catholicism and to contain the woodland. We focused on the environmental aspects…"
Tomm expanded on this idea, stating, "Will's (Collins; Song of the Sea) message is really about finding that we need to strike a balance…in regard to our relationship with nature, in regard to our relationship with ourselves, in regard to our fellow human beings…". These themes are intricately depicted over and over again in Wolfwalkers, especially when Robyn (Honest Kneafsey) and Bill Goodfellowe (Sean Bean) begin to view the world around them from the aspect of the wolves' eyes.
Since Wolfwalkers is the third film in a trilogy of Irish folklore, it will be interesting to see where Ross and Tomm focus their efforts next. If that project is anything like this last one, it will be an artistic interpretation of common thoughts.
Wolfwalkers, an enjoyable movie for every member of the family, is streaming now on AppleTV+. It is a perfect time to gather around and spend time with your loved ones this Holiday season.