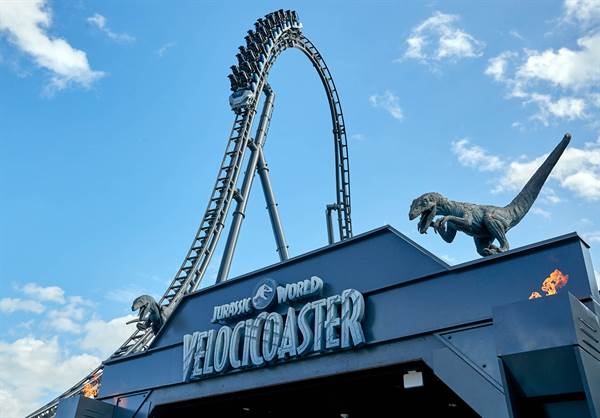 Medically trained writer Michael Crichton (Westworld) wrote a novel in 1990 called Jurassic Park about experimentation with genetic engineering. Billionaire John Hammond (Richard Attenborough; Miracle on 34th Street) created an amusement park with real-life dinosaurs using fossil DNA. The book and subsequent movie became so successful that Crichton wrote a sequel, and the movie turned into an entire franchise spanning almost 30 years. Universal Studios has seized upon this success by adding their own "Jurassic Park" to their amusement park in Orlando, Florida, which is obviously dinosaur-themed. This week, twenty-eight years after the original film debuted, The Universal Orlando Resort unveiled the tallest, fastest coaster in Florida called VelociCoaster.
As the ride begins, guests will enter the Velociraptor paddock and "run" alongside these dangerous predators. Thrill-seekers will experience the fastest, tallest, and most intense launch coaster in Florida, which catapults riders 155 feet in the air while traveling at extreme speeds up to 70 mph. The Coaster boasts 360-degree inversions, a dynamic inverted stall, and a severe 80-degree drop that will get one's heart pounding. It accelerates to its top speed in 2.4 seconds making the rider feel as if they are being shot out of a cannon. As it barrel rolls mere feet above the Islands of Adventure Lagoon the twists and turns heighten the excitement while eliciting screams from guests throughout the ride.
While Universal is known for creating queues that are immersive, from the first minute in line to the end of the exit ramp, VelociCoaster doesn't offer the same level of inclusiveness as other rides. There is some prerecorded banter between Claire (Bryce Dallas Howard; The Help), Owen (Chris Pratt; Guardians of the Galaxy), and Dr. Wu (B.D. Wong; Mr. Robot) but it is on a continuous loop, and I could see it becoming annoying if one is waiting in line for over an hour.
However, The Universal Orlando Resort wouldn't be content with simply creating a new, state of the art roller coaster, so they developed several new menu items for guests to enjoy, including a burger with avocado, fried plantains, and a tangy sauce, Jasmine rice and beans, and an Island punch drink with mango juice and some carbonation. Of course, no meal would be complete without dessert and there are a number of items to try. Graham cracker and marshmallow encased in blue-dyed chocolate, a mason jar full of chocolate cake, chocolate frosting, and mini candy "bones" to dig up, and a nod to the "churros stand" with a blue and green iced churros and a churro donut (if you aren't in on the VelociCoaster/churro joke, you need to google it).
The Universal Orlando Resort has also unveiled their newest budget hotels - Endless Summer Dockside and Surfside. Not far from City Walk, guests can take a five-minute shuttle ride to the parks. The rooms are nice, comfortable, and share a similar design to Sapphire Falls. With a game room, large pool with ample lounge chairs, and a counter service restaurant, Dockside offers guests an affordable option to lay their heads after a busy day at the parks (Just remember to factor in parking fees if you are driving to the resort or rent a car).
Once again, The Universal Orlando Resorts has upped its game and brought the best adrenaline rush to central Florida in the form of a high-speed, movie-themed roller coaster. Just when you thought they couldn't top the majesty of their The Wizarding World of Harry Potter that spans both parks, they managed to do it with the VelociCoaster.
My recommendation - Run, don't walk to Islands of Adventure and plan to ride the new roller coaster at least two times because the first time you will be too busy trying to get through the ride to really enjoy it, and the second time, since you will know what to expect, you can relax a little more and keep your eyes open the entire time.