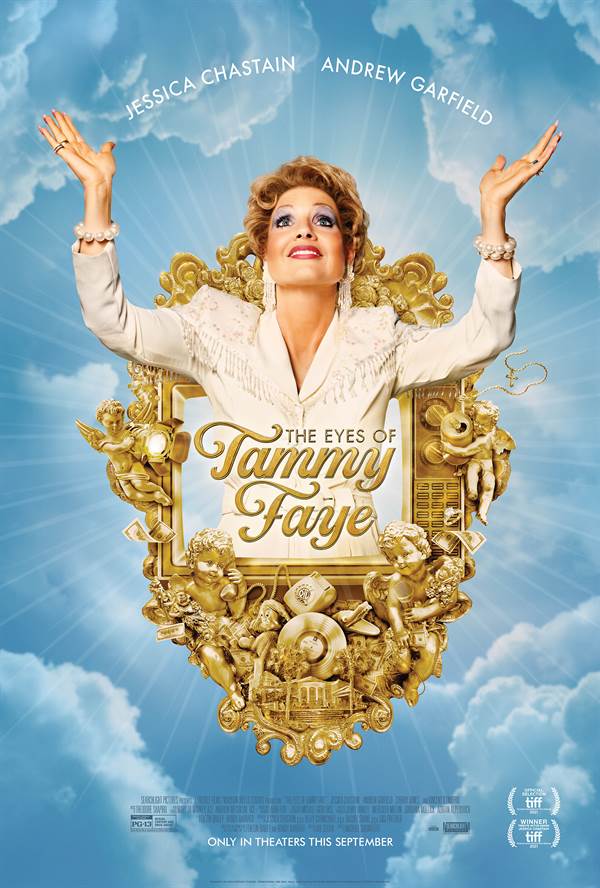 Televangelists use the media, specifically radio and television, to communicate Christianity. They often have millions of followers who donate to their Churches. Unfortunately, not all of them are as innocent as they seem and there have been numerous scandals of impropriety including embezzling church funds. One example of these scandals included Jim and Tammy Faye Bakker. The new film heading to theaters, THE EYES of TAMMY FAYE dramatizes her legacy.
Searchlight Pictures, in conjunction with FlickDirect, would like to offer some lucky winners one electronic admit-two pass to see an advance screening on Monday, September 13, 2021, at 7:30 pm at either AMC Aventura (Miami), AMC Veterans (Tampa), Cinemark Palace 20 (Boca Raton) or AMC Alamonte (Orlando) before the film is released in theaters on September 17, 2021.

To enter for a chance to win one, admit-two pass to see THE EYES of TAMMY FAYE follow these easy steps:
THE EYES OF TAMMY FAYE is an intimate look at the extraordinary rise, fall, and redemption of televangelist Tammy Faye Bakker. In the 1970s and 80s, Tammy Faye and her husband, Jim Bakker, rose from humble beginnings to create the world's largest religious broadcasting network and theme park and were revered for their message of love, acceptance, and prosperity. Tammy Faye was legendary for her indelible eyelashes, her idiosyncratic singing, and her eagerness to embrace people from all walks of life. However, it wasn't long before financial improprieties, scheming rivals, and scandal toppled their carefully constructed empire.
Directed By: Michael Showalter
Cast: Jessica Chastain, Andrew Garfield, Cherry Jones, and Vincent D'Onofrio
The contest ends September 11, 2021
RATED PG-13 for some sexual content
NO PURCHASE NECESSARY. Limit one pass per household. Must be 13 years of age or older to win. Employees of all promotional partners and their agencies are not eligible. Void where prohibited. Entries must be received by 11:59 pm on September 11, 2021, to be eligible to receive a pass. Winners will be contacted via e-mail to receive their electronic passes. Sponsors are not responsible for incomplete, lost, late, or misdirected entries or for failure to receive entries due to transmission or technical failures of any kind. ONE ENTRY PER PERSON.