The Eyes of Tammy Faye (2021)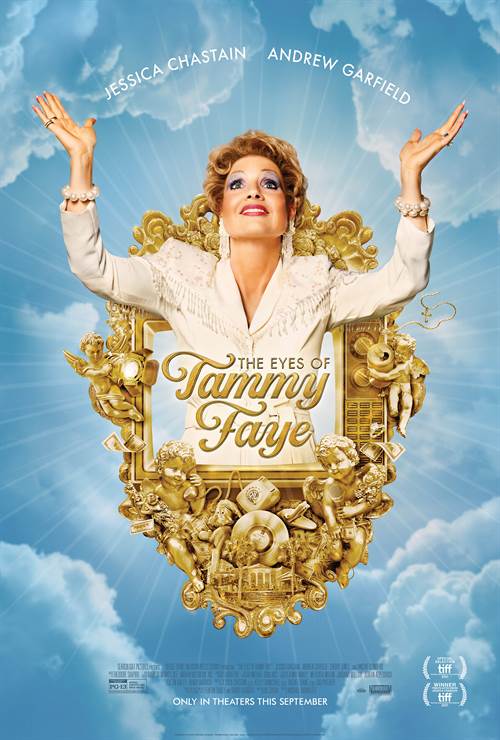 | | |
| --- | --- |
| Director: | |
| Writers: | |
| Cast: | |
| Released: | Friday, September 17, 2021 |
| Length: | 126 minutes |
| Studio: | Searchlight Pictures |
| Genre: | Drama |
| Rating: | Some material may be inappropriate for children under 13. |
The Eyes of Tammy Faye Synopsis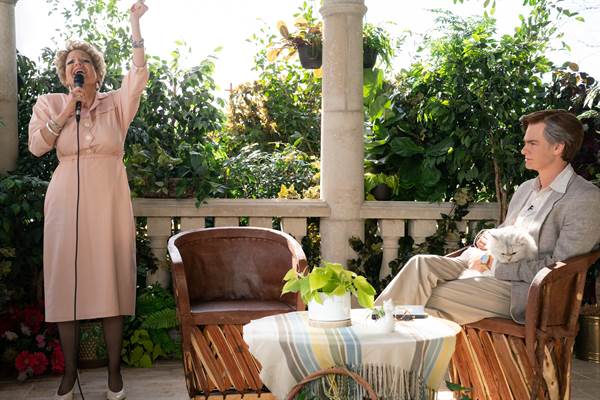 THE EYES OF TAMMY FAYE is an intimate look at the extraordinary rise, fall, and redemption of televangelist Tammy Faye Bakker. In the 1970s and 80s, Tammy Faye and her husband, Jim Bakker, rose from humble beginnings to create the world's largest religious broadcasting network and theme park and were revered for their message of love, acceptance, and prosperity. Tammy Faye was legendary for her indelible eyelashes, her idiosyncratic singing, and her eagerness to embrace people from all walks of life. However, it wasn't long before financial improprieties, scheming rivals, and scandal toppled their carefully constructed empire.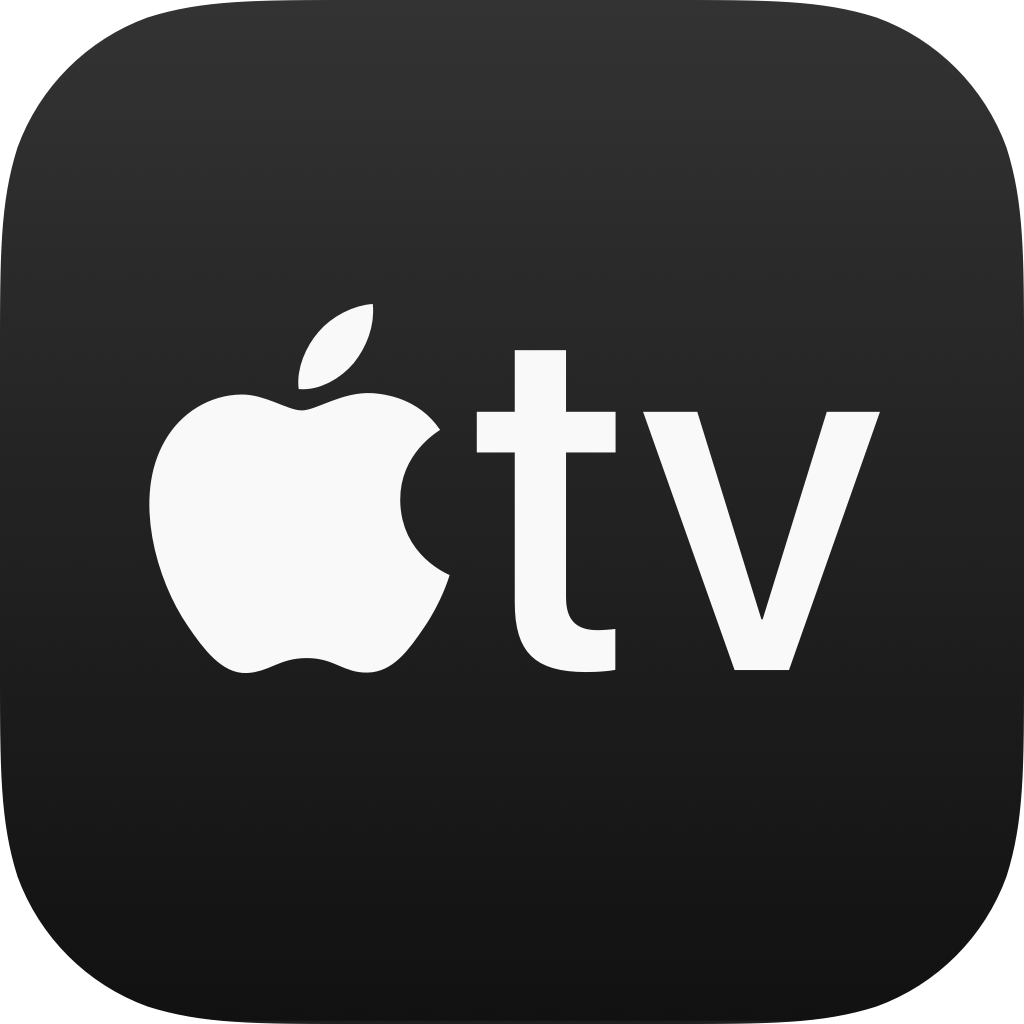 Stream The Eyes of Tammy Faye in Digital HD/4K from the AppleTV store.
The Eyes of Tammy Faye images are © Searchlight Pictures. All Rights Reserved.
See A Free Screening of Eyes of Tammy Faye Florida
9/9/2021 12:50 PM EST
Televangelists use the media, specifically radio and television, to communicate Christianity.  They often have millions of followers who donate to their Churches.  Unfortunately, not all of them are as innocent as they seem and there have been numerous scandals of impropriety including embezzling church funds.  One example of these scandals included Jim and Tammy Faye Bakker. The new film heading ...
More>>
The Eyes of Tammy Faye Theatrical Review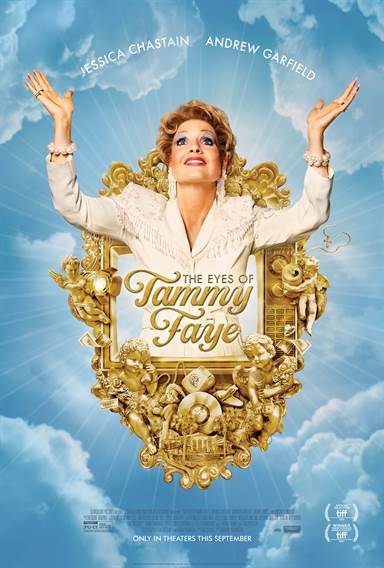 Jim and Tammy Faye Bakker were televangelists who amassed a following of millions of followers at the height of their popularity. Then, in 1987, their reign over religious television came to an end with the appropriation of funds and sexual scandals. An investigation into the PTL (Praise the Lord) Club revealed two sets of books were kept and money was siphoned off to pay hush money to Jessica Hahn, who alleged she was drugged and raped by Jim Bakker in a hotel room in Clearwater, Florida. Ultimately, the Bakkers were disgraced and divorced after Jim was sentenced to forty-five years in prison. Searchlight Pictures' The Eyes of Tammy Faye tells the back story of the Bakkers before their world fell apart.
Tammy Faye LaValley (Jessica Chastain; Ava) was a student at North Central University in 1960 where she met Jim Bakker (Andrew Garfield; The Amazing Spider-Man). They married in 1961 and left school to become itinerant evangelists. In 1966 they joined Christian Broadcasting Network where Jim became the host of the network's flagship show, The 700 Club. After a time, the Bakkers left CBN and eventually started their own network, PTL in 1976. Ten years later, Jim resigned in disgrace and Tammy Faye was forced off the network in the wake of the scandals.
Chastain is the saving grace for this film with her performance of the over-the-top Tammy Faye. She humanizes a woman who became the punchline of late-night television jokes in the late 1980s. Garfield isn't bad as Jim, but his demeanor is tame in comparison to what Jim Bakker is like in real life. The problem with the casting is Chastain seems so much more mature than Garfield that their pairing as the televangelist couple doesn't work. Perhaps a different actor portraying Bakker (Aaron Paul?) would have made a difference but probably not significant enough to save this movie.
The story heavily relies on the idea that Tammy Faye was innocent of all her husband's indiscretions, especially the money part. However, having been alive when the scandal broke, I find it difficult to believe that she didn't know or question where the money for their lavish lifestyle was coming from. The earlier portion of the movie was interesting enough but loses momentum and credibility once the PTL years are brought into the story. Of course, the movie is based on a 2000 documentary of the same name so it stands to reason Tammy Faye would paint herself in a pure light which is obviously a biased view of the scandal.
Besides Chastain, the costume and makeup departments did a wonderful job of recreating the husband-and-wife team, especially as they aged throughout the years. From the 1960s fashions to Tammy Faye's flamboyant attire and appearance in the 1980s, they did a great job making Tammy Faye's transition realistic. Director Michael Showalter (The Big Sick) offers some interesting shots but fails to keep the movie moving at a steady pace.
Had The Eyes of Tammy Faye been released in the late 1990s or early 2000s it would have had more relevance than it does now. I don't know how interested audiences will be in their story this far removed from the actual events. Nor do I think the film will attract viewers outside of the United States which limits its box office appeal. Finally, as I have stated previously, there is definitely a bias to this version of the story, giving the biographical picture more of a fictitious slant than the truth.
If you remember the scandal and Jim and Tammy Faye Bakker, you may want to see the movie to learn some semblance of their backstory. However, younger audiences probably won't be all that interested in this film
Grade: C+ (Mostly for Chastain's performance)
-- Allison Rose
For more reviews please visit our film/television review section.
For today's home video review, FlickDirect's Austin Putnam talks THE EYES OF TAMMY FAYE on Blu-ray!...
SPONSORED LINKS