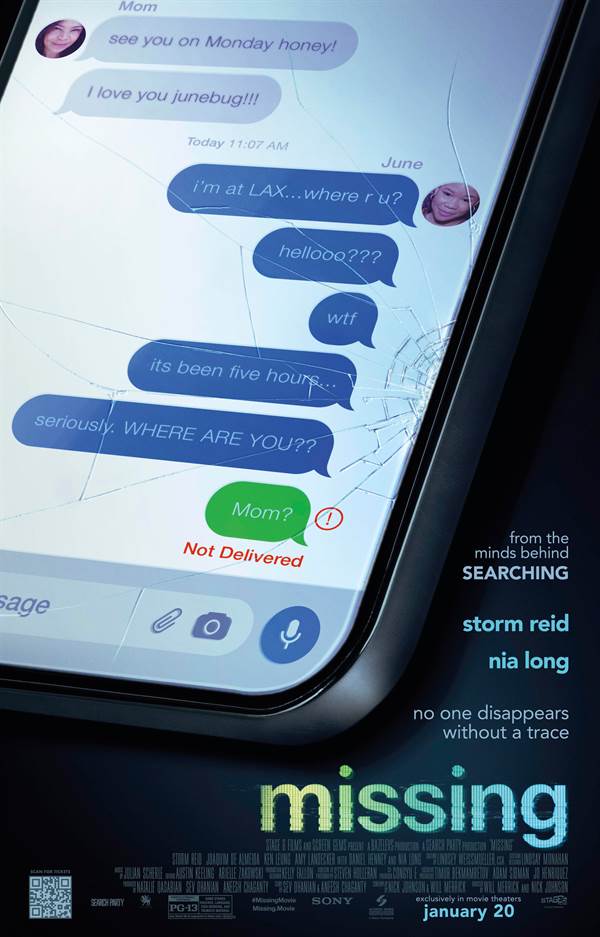 As social media and technology become more prevalent in our lives, so do the various ways people can use and misuse multiple platforms. In 2018 writer/director Aneesh Chaganty offered audiences a view we have never seen before when Searching it movie theaters and garnered critical acclaim. This month another film, similar to Searching is coming to theaters. It is called Missing.
Screen Gems, in conjunction with FlickDirect, would like to offer some individuals access to an advanced screening of Missing at AMC Sunset Place in Miami, on Thursday, January 12, 2023, at 7:30 pm before it opens in theaters.
In order to download an electronic pass to the screening, go to the following link:
Missing Passes: http://bit.ly/3GWlJVr
Download your pass while supplies last!
Be sure to download one of our movie apps to be alerted the minute NEW links go live!
From the minds behind Searching comes Missing, a thrilling roller-coaster mystery that makes you wonder how well you know those closest to you. When her mother (Nia Long) disappears while on vacation in Colombia with her new boyfriend, June's (Storm Reid) search for answers is hindered by international red tape. Stuck thousands of miles away in Los Angeles, June creatively uses all the latest technology at her fingertips to try and find her before it's too late. But as she digs deeper, her digital sleuthing raises more questions than answers...and when June unravels secrets about her mom, she discovers that she never really knew her at all.
IN THEATERS ON JANUARY 20
RATED: PG-13
NO PURCHASE NECESSARY. Limit one pass per household. Must be 13 years of age or older to redeem. Employees of all promotional partners and their agencies are not eligible. Void where prohibited.