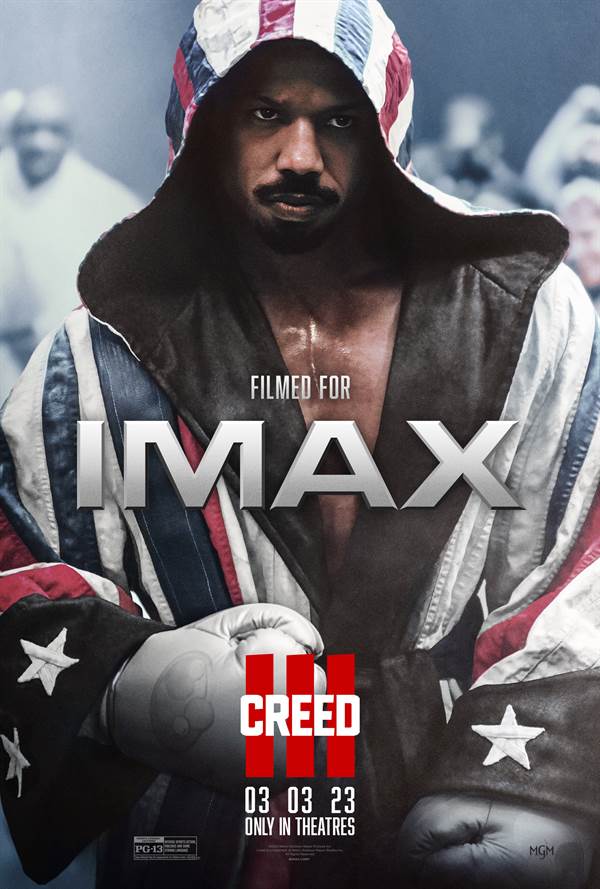 IMAX and MGM Studios have announced the exclusive "CREED III": The IMAX Live Premiere Event.
On Monday, February 27 Actor-Director-Producer Michael B. Jordan of "CREED III" will be joined by the cast to celebrate his directorial debut at the TCL Chinese Theater. The premiere red carpet will be streamed to 50 theatres across North America followed by an advance screening of the film. This fan-first event allows moviegoers exclusive access to the red carpet, special behind-the-scenes content, and the opportunity to be part of the first audiences to see "CREED III" in the unrivaled sight and sound of IMAX. "CREED III" is the first sports film in history to be Filmed For IMAX.
The "Creed" movie franchise is a series of sports drama films centered around the character of Adonis Creed, the son of the late boxing champion Apollo Creed. The series serves as a spin-off and continuation of the "Rocky" movie franchise.
The first film in the "Creed" franchise, "Creed" (2015), was directed by Ryan Coogler and stars Michael B. Jordan as Adonis Creed, who seeks the guidance of Rocky Balboa (played by Sylvester Stallone) to train him to become a professional boxer. The film was well-received by audiences and critics, and it was a commercial success.
The sequel, "Creed II" (2018), was directed by Steven Caple Jr. and focuses on Adonis facing off against the son of Ivan Drago, the man who killed his father in the ring. The film features the return of Sylvester Stallone as Rocky Balboa and also stars Tessa Thompson and Phylicia Rashad.
"Creed III" star Michael B. Jordan as Adonis "Donnie" Creed (né Johnson), Alex Henderson as young Adonis "Donnie" Johnson, Tessa Thompson as Bianca Taylor, Jonathan Majors as Damian "Dame" Anderson, Spence Moore II as young Damian "Dame" Anderson, Wood Harris as Tony "Little Duke" Evers, Florian Munteanu as Viktor Drago, and Phylicia Rashad as Mary Anne Creed The film will also feature Tony Bellew, who reprises his role as "Pretty" Ricky Conlan from the first film, and Selenis Leyva, Thaddeus J. Mixson, Mila Davis-Kent, and Canelo Álvarez in undisclosed roles.
For a list of participating theaters and to purchase tickets please visit: http://creed.imax.com/.