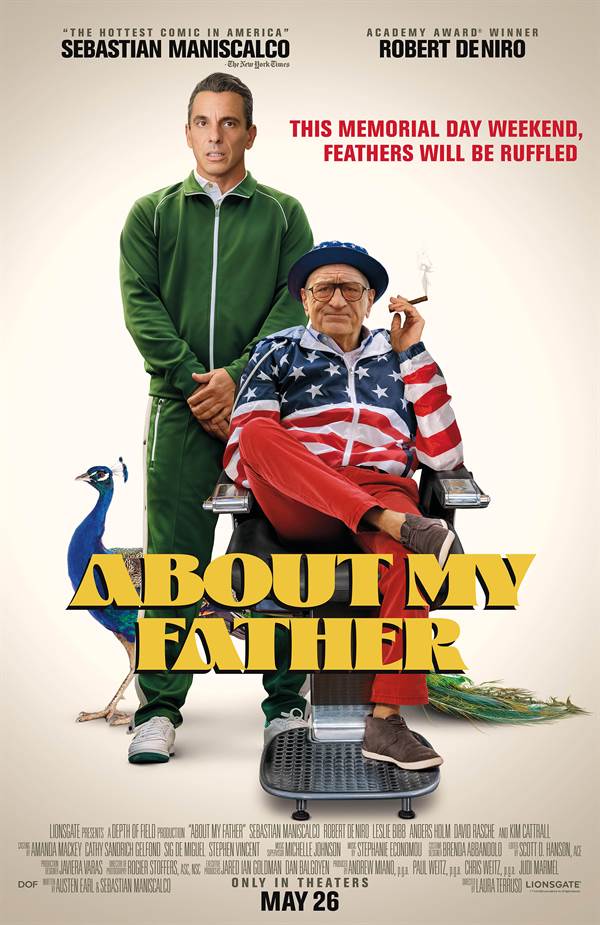 We all know what is said about families and so often the idiosyncratic behavior of one's relatives becomes comedy gold for filmmakers. At least once a year there is a movie about a family getting together that ends in hilarity (at least moviegoers hope it will be hilarious). This month's entry into the comedy sub-genre of family ridiculousness is Lionsgate's new movie ABOUT MY FATHER.
Heading to theaters for the Memorial Day Weekend, Lionsgate, in conjunction with FlickDirect, would like to offer some lucky winners one electronic admit-two pass to see an advance screening of ABOUT MY FATHER at 7:30 pm on Monday, May 22, 2023, at AMC Sunset Place, Miami, FL.
In order to download an electronic pass to an advance screening of ABOUT MY FATHER head over to the Lionsgate Screening Website.
*Seats are first come first serve
Be sure to download one of our movie apps to be alerted the minute NEW links go live!
The contest ends Friday, May 19, 2023
The hottest comic in America, Sebastian Maniscalco joins forces with legendary Italian-American and two-time Oscar winner, Robert De Niro, in the new comedy ABOUT MY FATHER. The film centers around Sebastian (Maniscalco) who is encouraged by his fiancée (Leslie Bibb) to bring his immigrant, hairdresser father, Salvo (De Niro), to a weekend get-together with her super-rich and exceedingly eccentric family (Kim Cattrall, Anders Holm, Brett Dier, David Rasche). The weekend develops into what can only be described as a culture clash, leaving Sebastian and Salvo to discover that the great thing about family is everything about family.
NO PURCHASE NECESSARY. Limit one pass per household. Must be 17 years of age or older to win. Employees of all promotional partners and their agencies are not eligible. Void where prohibited. Entries must be received by 11:59 pm on May 19, 2023, to be eligible to receive a pass. Winners will be contacted via e-mail to receive their electronic passes. Sponsors are not responsible for incomplete, lost, late, or misdirected entries or for failure to receive entries due to transmission or technical failures of any kind. ONE ENTRY PER PERSON.