Lore Theatrical Review
By
John Delia
,
Mar 14, 2013 04:24 PM EST
Lore Is A mesmerizing story of determination that stuns and bewilders.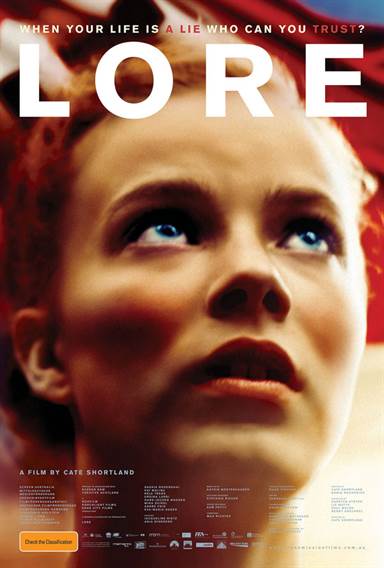 One of the most sensitive and disturbing themes fuels Lore, a mesmerizing drama opening this weekend in theaters. It's about the opposite side of the coin when Germany gets taken by the Allies during WWII. Seen through the eyes of a 14-year-old German girl, this film takes you on a journey that will shock, outrage and sadden.

It's 1945 and Germany has been brought to its knees with the destruction of Berlin and the death of Hitler. German SS officers and their families, especially those involved with the atrocities of the Holocaust, are targets for the allies who want to bring them to justice. One such family finds the parents leaving their 5 children behind as they go to face retribution.

Lore (Saskia Rosendahl), a 14-year-old strong willed girl has been left with an incredible task, taking her young siblings to their grandmother who lives a hundred miles across Bavaria from the Black Forrest where they went into hiding with their parents. Now left behind without food and protection, Lore must find a way to get the group to the safety of her only relative. Taking simple belongings, urging her sister Liesel (Nele Trebs) brothers Jürgen (Mika Seidel) and Günther (André Frid) and pushing a carriage with her 6 month old sister inside, she tries to make sense of what is happening.

Being turned away from allied sympathizers and without proper identification papers Lore presses on finding herself in danger at every turn attempting to avoid predators, the invading armies and others who would do her family harm. On the road a young man, Thomas (Kai Malina), notices her and tries to get acquainted, but she rebukes his advances. When they run into a military roadblock and Thomas comes to her aid with his Jewish ID, Lore starts to welcome his companionship in spite of her disdain for who she has been taught to be a scourge.

The story gets very intriguing with Lore resisting the knowledge that her "Fhurer" has been killed, has committed atrocities and Germany lost the war. Ingrained by the Hitler Youth Movement that she's above her foreign invaders, she believes that her plight's temporary and Germany will have the 'final victory'. She detests Thomas because he's a Jew, yet she accepted his help for survival.

There are two sides to the main character Lore, one that drives her belief in Hitler's Third Reich and the second a coming of age in a world of torment and destruction. While the first can be explained as patriotism that we see in the people of every country, it's still hard to reconcile Lore's strong defiance and mistrust for the Jewish people. It becomes a sad set of circumstances with her character representing a whole nation that has been brainwashed into believing that the hapless ethnic group is just a thorn in their side that festers without end. Her entry into adulthood with responsibilities on the other hand is one with which we can sympathize. The crushing weight that's been put on the shoulders of this 'innocent' girl in the dawn of becoming a woman challenges us whether to accept her character in spite of her deep-seated beliefs.

The actors under the direction of Cate Shortland are magnificent in bringing the involving film to the screen. In her first role as Lore, Saskia Rosendahl makes a stunning appearance showing her hatred, weaknesses and even her ability to kill that grows out of her willpower to save her family and bring them to safety. The boys played by Mika Seidel and André Frid add to the realism dancing for a farmhouse lady to get some food or confiscating items to help the group on their unexpected trip. While Gunther is the most forceful wanting to accept any help they could get, Jurgen vacillates between his sister Lore's direction and young Liesel's needs. Nele Trebs plays Liesel, the weakest and most delicate of the group. She tries to come to grips with the whole situation slowing the group down by not accepting the path they are taking.

Shortland directs this spellbinder with a heavy hand, slowly building her audience to feel the hatred, pain, deceit and violence with a final twist that challenges the futility of it all. Her guidance of the camera and choice of locations are perfect for the plot and easily turn the clock back to a time when the world changed forever. Close-ups of the distressed family as they prod along suffering from exposure and aggressors are pictures worth a thousand words whether in sympathy or loathing.

Lore does not have an MPAA rating, but contains violence, attempted rape, nudity, language and sex. I recommend that adults use extreme caution when deciding to bring immature children to a showing. The film is presented in the German language with English subtitles. The subtitles are easily read and the use of the original language of the plot serves as a realistic element. The film script is based on the book "The Dark Room" by Rachel Seiffert.

FINAL ANALYSIS: A mesmerizing story of determination that stuns and bewilders. (A)


Purchase a DVD/Blu-ray/4K UHD physical copy of Lore today at Amazon.com
MPAA Rating:
NR
Running Time:
109 minutes
Distributed By:
Music Box Films
For more information about Lore visit the FlickDirect Movie Database.
About John Delia