Reign (2013)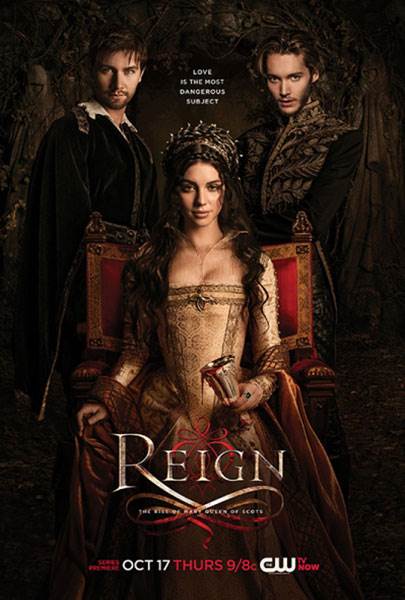 Share this:
| | |
| --- | --- |
| Cast: | |
| Air Date: | Thursday, October 17, 2013 |
| Studio: | CBS Television Studios |
| Genre: | Television |
| Rating: | This program contains some material that many parents would find unsuitable for children under 14 years of age. |
Synopsis
Hidden between the lines of the history books is the story of Mary Stuart, the young woman the world would come to know as Mary, Queen of Scots. The teenage Mary is already a headstrong monarch - beautiful, passionate and poised at the very beginning of her tumultuous rise to power.
Arriving in France with four close friends as her ladies-in-waiting, Mary has been sent to secure Scotland's strategic alliance by formalizing her arranged engagement to the French king's dashing son, Prince Francis. But the match isn't signed and sealed, it depends more on politics, religion and secret agendas than affairs of the heart. Prince Francis is intrigued by the fiery Scot, but like most young men, he resists the idea of settling down into marriage, especially when he has a history with a lady of the court and his own point of view on the wisdom of an alliance with Scotland. Still, an attraction between Mary and Francis is ignited.
Further complicating things is Bash, Francis' handsome, roguish half-brother, who has a history of his own - despite his illegitimate birth, Bash is his father's favorite. Though he is all too aware that Francis is the heir to the throne and Mary's intended, Bash soon develops his own feelings for Mary. None of the intrigue at Court is lost on Francis' mother, Queen Catherine. The strong-willed Queen is aware of Mary's inflammatory effect on her son and his half-brother, just as she is aware of the dalliances of her husband, King Henry, not only with his mistress, but with other ladies of the Court, as well. For guidance, Queen Catherine turns to her trusted advisor, the seer Nostradamus, who terrifies the Queen with his prophecy that marriage to Mary will cost Francis his life. Catherine is determined to save her son, no matter how many others have to pay with their lives.
As Mary learns for herself that fierce foes are conspiring to sabotage her marriage to Francis and even threaten her life, she becomes aware of other dark forces. There's a mysterious presence in the castle; a shrouded figure who may become her unlikely ally. Villagers cope with the brutality of the times by trusting in magic and superstition. And in the dark woods surrounding the French Court lurk those who offer human sacrifice to a being who seems to require blood.
With danger and sexual intrigue around every dark castle corner, Mary rallies her ladies-in-waiting – Greer, Kenna, Lola and Aylee – and steels herself, ready to rule the new land and balance the demands of her country and her heart.
Purchase DVD/Blu-ray/4K physical copy of Reign today at
Download Reign in Digital HD/4K from the iTunes store.
Reign images are © CBS Television Studios. All Rights Reserved.


Reign: The Complete Fourth Season DVD Review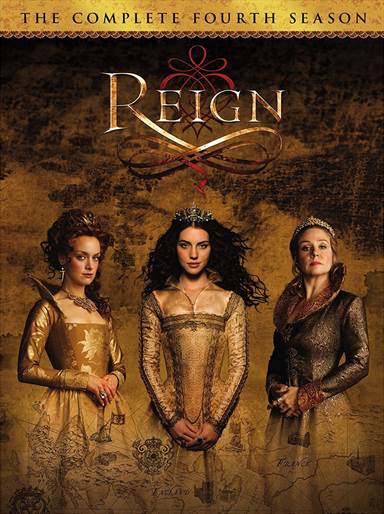 It's an epic tale- two women cousins who have never met, both fighting to retain their crowns while being pushed by other kingdoms to claim the others. It's a time of deceit, love, passion, and loyalty. An era of two women who seemed to be just pawns in a big game of chess- but unbeknownst to the game maker, the pawns come up with a play never seen before.
Over the last four seasons, Warner Bros. has brought to us all the glory and defeat of Queen Mary of Scots beginning with an assassination attempt on young Queen Mary's life when she was still in an abbey school to the end game at the end of her life. Season Four centers around Queen Mary (Adelaide Kane; Teen Wolf) trying to make a "go" of her awful marriage to Lord Darnley (Will Kemp; Van Helsing), as well as King Charles of France (Spencer Macpherson; Degrassi: The Next Generation) trying to figure out how to be King of a County he really doesn't want, while Spain tries to infiltrate the French throne. Season Four was announced as the series finale, which for fans of the show, was a sad moment, but the writers did an exceptional job wrapping up the series and bringing Queen Mary's story to a close.
Season Four's central storyline, is, of course, centered around Mary and her continued efforts to thwart Darnley's efforts to obtain the Crown Matrimonial, all while trying to keep the peace in Scotland, her lover Bothwell (Adam Croasdell; East Enders) afar, and make decisions if she should fight her cousin, Queen Elizabeth (Rachel Skarsten; Fifty Shades of Grey) for the English Crown. Kane is captivating as Queen Mary and continues to draw audiences into her naiveté and innocence that a ruler usually does not have. It is clear that she is spoiled but is truly trying to do the best for her people to keep Scotland under her rule. Historically, Mary and Elizabeth are reputed to never have met in person, and in keeping in line with that, the writers do not have them meet during the show but with all the latitude they took, it would've been nice to see the in-person interactions between the two wonderful actresses. Regardless, the different scenes wherein each Queen is trying to maintain her Crown- and vie for the others- is wonderful writing- simple but with depth at the same time. The writers really bring to light the inner struggles each Queen goes through to keep her respective Crown, her County, and her dignity.
The other setting is, of course, where Season One started- in the French Court. With Charles losing his mind and then regaining it, it is a coming of age story for France. Macpherson does a brilliant job at playing an uncaring, disillusioned King, clearly too young for the job he was given. Everyone seems out for his throne and Charles doesn't seem to really want to fight for it until the love of his life dies. At that point, you can see the power that Macpherson pushes to the surface of his character and you know the French Court has finally gotten its King back.
Season Four has everything we want to see in a historical drama. Plotting, vengeance, revenge, amazing costumes, and an ending to the series that brings the story of Mary Queen of Scot's full circle. My only criticism is that the time frame from Darnley dying to Mary's death happens in such a short time, that I wished the writers had more time- and a few more episodes to explore the in-between time frame (approximately 18-20 years), rather than wrap it up in one episode. The ending of Reign was both heartbreaking and wonderful at the same time. Creatively abounded the last few scenes and brought us full circle to the beginning. Clearly, there will be no spin-off retelling Queen Mary's story, but maybe Warner Bros. may want to find out the interest in continuing her son's story, James because I for one, would love to see just how Elizabeth accepted Mary's son as heir to the English Throne.
Having a copy of Reign: The Complete Fourth Season DVD will only enhance your video collection. Even though there is a lot of wonderful embellishment in the series, for a generation whose only reality is technology and the dystopian future world, Reign will give them a sense of history – with enough intrigue that maybe- just maybe- we can make some of the tech babies of the Millennial generation interested in history.
A special thank you to Warner Bros., the writers, producers, directors, and especially, all of the actors who have graced our television set for the last four seasons. You have brought to life the story of Mary Queen of Scots and the lives of those who interacted with her in a way that was believable and brought her tragic story to life. I look forward to having Reign: The Complete Fourth Season DVD grace my shelf.

Grade: A
For more reviews please visit our film/television review section.
SPONSORED LINKS