Predator Blu-ray Review
By Stephen Compall,
Jul 03, 2010 11:03 PM EST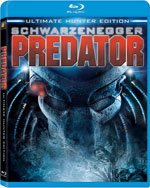 Do you remember how great things once were? It was then that your helicopter pilot wouldn't insist you put out your cigar in flight. When chewing tobacco would make you virile and hardly ever ill, and every man knew what the mission was, even when they didn't.
Everywhere you looked in those days, things were different. For one thing, you only got to see 24 times per second, and each of those so-called "frames" was covered in random noise. You see, the world was more real back then, though yet less so than when there were no colors.
If absence of reality is what you seek, you may find that which you seek in Predator. No men have ever been these quintessential men. No dishonorable CIA agent could ever suddenly become quite so honorable. The face of death is despair, not a rallying cry. Nobody sets three elaborate environment traps over the course of a single film with the expectation that the third one will be the one that fools the antagonist.
Nevertheless, once the obstacles the movie creates for itself, in the form of Dutch's (Arnold, Schwarzenegger, Total Recall, Terminator 2) compatriots, are removed in the natural course of events, it communicates its central metaphor much more strongly and effectively. It speaks to the integrity of the filmmakers that they were so willing to abandon the conventions of realism in service of conceptual consistency. This finds its utmost expression in the Predator itself, an impossible confluence of pure human concepts. It is simply too bad for the film as a whole that its makers were not quite committed enough to dismiss the unnecessary secondary characters and subplots.
Considering once more realism, some have accused the producers of this Blu-Ray special edition of a disservice to the original film, by denoising the video. I would only remind these that, while, to be fair, the temporal denoise was chosen a little aggressively, things are, in fact, more real than they once were.
Purchase your copy of Predator today at
Download Predator from the iTunes Store in Digial HD.
MPAA Rating:
R
Running Time:
107 minutes
Distributed By:
20th Century Fox
For more information about Predator visit the FlickDirect Movie Database.
Read More Reviews For Predator
About Stephen Compall