Alex Sharp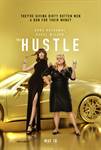 The Hustle (2019)
Rebel Wilson and Anne Hathaway have winning chemistry as a pair of con artists plying their trade in a stunning seaside town in the south of France. Josephine Chesterfield (Hathaway) is a glamorous, seductive...
The Trial of the Chicago 7 (2020)
What was intended to be a peaceful protest at the 1968 Democratic National Convention turned into a violent clash with police and the National Guard. The organizers of the protest—including Abbie Hoffman,...