Audrey Tautou
The Da Vinci Code (2006)
While in Paris on business, Harvard symbologist Robert Langdon (Tom Hanks) receives an urgent late-night phone call: the elderly curator of the Louvre has been murdered inside the museum. Near the body,...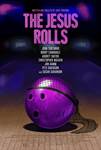 The Jesus Rolls (2020)
Fresh out of prison, smooth-talking petty thief Jesus Quintana (John Turturro, reprising his iconic Big Lebowski character) is ready to roll with his best friend Petey (Bobby Cannavale) riding shotgun....