Blake Masters
2 Guns (2013)
Academy Award® winner Denzel Washington and Mark Wahlberg lead an all-star cast in 2 Guns, an explosive action film that tracks two operatives from competing bureaus who are forced on the run together....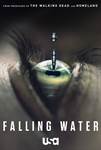 Falling Water (2016)
"Falling Water" -- a mind-bending drama debuting fall 2016 -- is the story of three unrelated people who slowly realize that they are dreaming separate parts of a single common dream. The deeper they dig,...