Coral Peña
24: Legacy (2017)
The clock ticks again with 24: LEGACY, the next evolution of the Emmy Award-winning "24." From Emmy Award-winning executive producer Howard Gordon ("Homeland," "24: Live Another...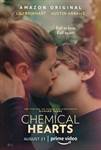 Chemical Hearts (2020)
Seventeen-year-old Henry Page (Austin Abrams) has never been in love. He fancies himself a romantic, but the kind of once-in-a-lifetime love he's been hoping for just hasn't happened yet. Then, on the...