Felicity Huffman
Cake (2015)
CAKE takes us into the darkly funny world of Claire Bennett (Jennifer Aniston) who initiates a dubious relationship with a widower (Sam Worthington) while confronting fantastical hallucinations of his...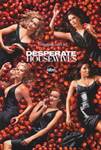 Desperate Housewives (2004)
In the town of Fairview there's a street called Wisteria Lane; a peaceful cul-de-sac with manicured lawns and beautiful houses. It's a place where you know all your neighbors and your neighbors...