Joe Taslim
Mortal Kombat (2021)
From New Line Cinema comes the explosive new cinematic adventure "Mortal Kombat," inspired by the blockbuster video game franchise, which most recently enjoyed the most successful video game launch in...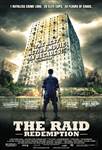 The Raid: Redemption (2012)
Rama, a member of a special forces team, arrives at a rundown apartment block with a mission to remove its owner, a notorious drug lord. The building has become a sanctuary to killers, gangs, rapists and...