Lynda Carter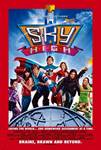 Sky High (2005)
It all begins at a secret school in the clouds like none on earth: Sky High, the first and only high school for kids with super-human powers going through crime-fighting puberty. At Sky High, the student...
Super Troopers 2 (2018)
Everyone's favorite law enforcement team is back by popular demand with the long anticipated follow up to the cult comedy classic…SUPER TROOPERS. When an international border dispute arises...