Meg Foster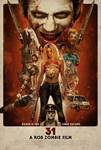 31 (2016)
From the visionary mind of Rob Zombie comes the horrific story of five carnival workers who are kidnapped the night before Halloween and held hostage in a large compound. At the mercy of their captors,...
The Lords of Salem (2013)
Heidi DJs at the local radio station, and together with the two Hermans (Whitey and Munster) forms part of the 'Big H Radio Team'. A mysterious wooden box containing a vinyl record arrives...