Nicholas Galitzine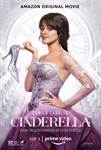 Cinderella (2021)
Cinderella is a musically driven bold new take on the traditional story you grew up with. Our heroine (Camila Cabello) is an ambitious young woman, whose dreams are bigger than the world will allow, but...
The Craft: Legacy (2020)
In Blumhouse's continuation of the cult hit The Craft, an eclectic foursome of aspiring teenage witches get more than they bargained for as they lean into their newfound powers.Written and directed by...