Robbie Fox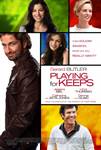 Playing For Keeps (2012)
Gerard Butler, Jessica Biel, Uma Thurman, Catherine Zeta-Jones and Dennis Quaid star in "Playing For Keeps," a romantic comedy about a charming, down-on-his luck former soccer star (Butler)...
So I Married An Axe Murderer (1993)
Combination comedy/romance/thriller. Charlie is a hip bookstore owner with a commitment problem. When he finally falls in love with a butcher, he comes to suspect she's a serial killer and he's...