Robin Shou
Mortal Kombat (1995)
For nine generations, Shang Tsung, and evil sorcerer, has led a powerful prince to victory against his mortal enemies. Should he win the tenth Mortal Kombat tournament, the darkness and despair...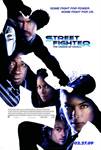 Street Fighter: The Legend of Chun-Li (2009)
On the streets of Bangkok, crime boss Bison instigates a wave of violence in the slum districts, grabbing power and land no matter what the costs to its residents. His ruthless tactics are met by a team...