Sydney Tamiia Poitier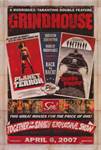 Grindhouse (2007)
The film Grindhouse gleefully resurrects the theatrical experience of watching back-to-back "exploitation" movies. Written and directed by two of the genre's most hard-core and best-known...
Veronica Mars (2004)
In the wealthy seaside community of Neptune, the rich and powerful make the rules. Enter Veronica Mars - the smart, fearless apprentice private investigator who tries to uncover the town's darkest...