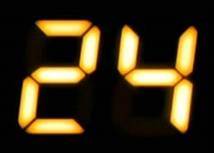 Time may be running out on 24, one of the most innovative and acclaimed dramas on television, but fans can relive every heart-pounding minute of the show's final season when "24" Season Eight arrives on December 7, 2010 to Blu-ray and DVD from Twentieth Century Fox Home Entertainment. Additionally on December 7, fans will also have a chance to experience all 8 days of Jack Bauer when "24" The Complete Series arrives in a collectible DVD box set.

"24" The Complete Series is a must-own collectible box set, that includes Seasons 1-8, and bursting with bonus features including deleted scenes; behind-the-scenes footage; a comprehensive retrospective that looks back at the show's unforgettable eight seasons; an alternate ending for the series finale and much more.

In "24" Season Eight, New York City is the backdrop and Emmy Award® winner Kiefer Sutherland is back as rugged counter-terrorist, Jack Bauer. Just when he thought he was leaving the dangerous life behind to be with his daughter and her family, Jack is once again called on by CTU to uncover a Russian extremist plot to assassinate an Islamic leader during peace negotiations with U.S. President Taylor. Fan favorites Elisha Cuthbert, Mary Lynn Rajskub, Cherry Jones, and Annie Wersching are joined by new faces Anil Kapoor, Katee Sackoff, Bob Gunton and Freddie Prinze Jr. for Jack's final, nail-biting 24 hours protecting America's freedom.

About Fox Home Entertainment
Twentieth Century Fox Home Entertainment, LLC (TCFHE) is a recognized global industry leader and a subsidiary of Twentieth Century Fox Film Corporation, a News Corporation company. Representing 75 years of innovative and award-winning filmmaking from Twentieth Century Fox, TCFHE is the worldwide marketing, sales and distribution company for all Fox film and television programming, acquisitions and original productions on DVD, Blu-ray Disc, Digital Copy, Video On Demand and Digital Download. The company also releases all products globally for MGM Home Entertainment. Each year TCFHE introduces hundreds of new and newly enhanced products, which it services to retail outlets from mass merchants and warehouse clubs to specialty stores and e-commerce throughout the world.