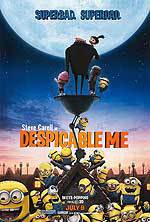 Deadline reports that Universal pictures will be pushing along the development of their family film branch, Illumination Entertainment. The push comes after the surprising success of the just-released "Despicable Me" film.

Along with a sequel to the film, there will be about a half dozen other projects that the company will be working on, including "Hop", starring Russell Brand as the Easter bunny. That film is slated for an April 2011 release.

Other films in development are an adaptation of Dr. Seuss' The Lorax, the Ricky Gervais-created "Flanimals", Tim Burton's new interpretation of "The Addams Family", and a "Where's Waldo" film.