Despicable Me (2010)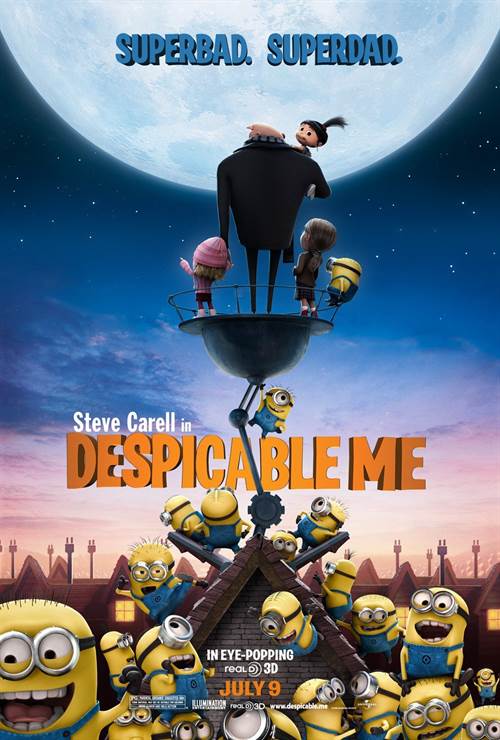 | | |
| --- | --- |
| Director: | |
| Writers: | |
| Cast: | |
| Released: | Friday, July 9, 2010 |
| Length: | 95 minutes |
| Studio: | Universal Pictures |
| Genre: | Family |
| Rating: | Some material may not be suitable for children. |
Despicable Me Synopsis
In a happy suburban neighborhood surrounded by white picket fences with flowering rose bushes, sits a black house with a dead lawn. Unbeknownst to the neighbors, hidden beneath this home is a vast secret hideout. Surrounded by a small army of minions, we discover Gru (voiced by Steve Carell), planning the biggest heist in the history of the world. He is going to steal the moon (Yes, the moon!) in Universal's new 3-D CGI feature, "Despicable Me."

Gru delights in all things wicked. Armed with his arsenal of shrink rays, freeze rays, and battle-ready vehicles for land and air, he vanquishes all who stand in his way. Until the day he encounters the immense will of three little orphaned girls who look at him and see something that no one else has ever seen: a potential Dad.

The world's greatest villain has just met his greatest challenge: three little girls named Margo, Edith and Agnes.

Purchase DVD/Blu-ray/4K UHD physical copy of Despicable Me today at Amazon.com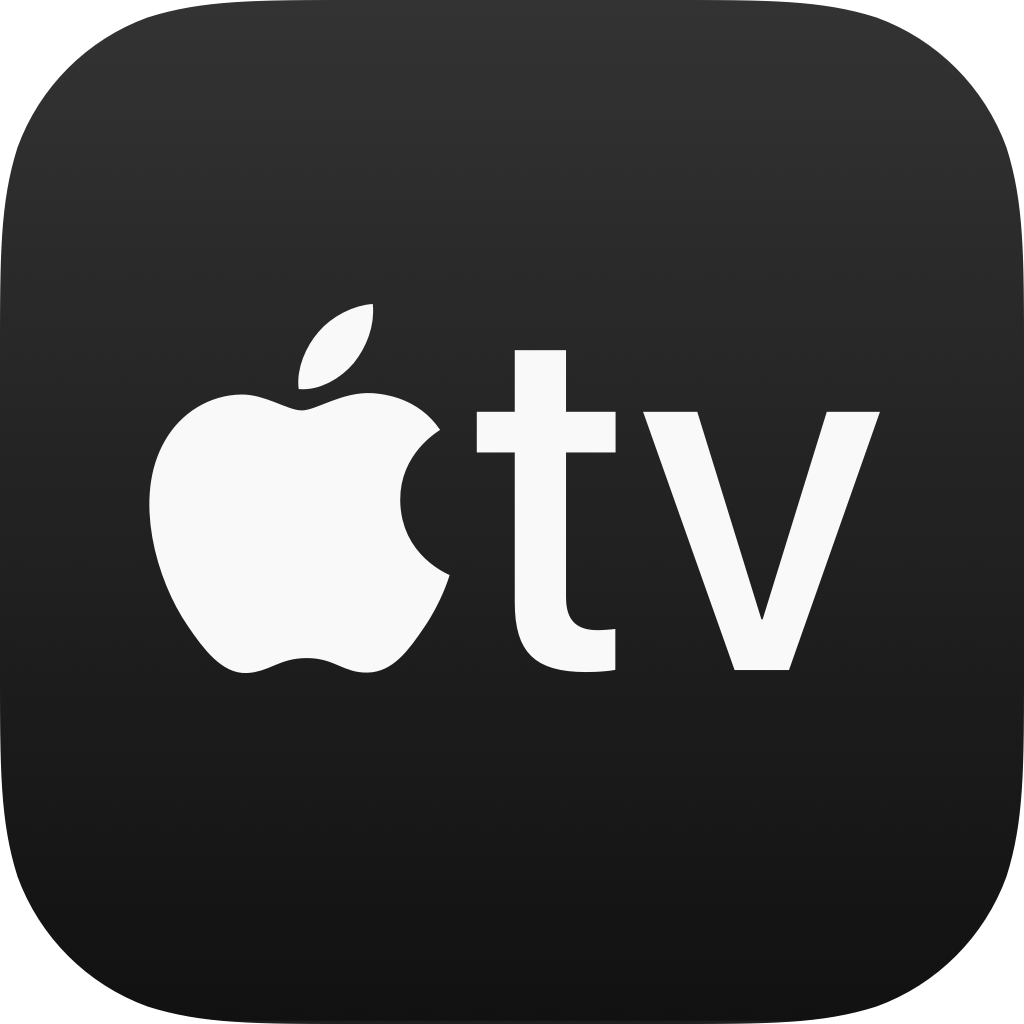 Stream Despicable Me in Digital HD/4K from the AppleTV store.
Despicable Me images are © Universal Pictures. All Rights Reserved.
Win a Digital Copy of MINIONS: THE RISE OF GRU
8/29/2022 10:09 AM EST
Let's face it, whether they annoy you or not, you have to admit they are really cute and even sometimes funny.   Of course, "they" are none other than those yellow, overalls-wearing, mischievous makers - the Minions.  This summer they returned to theaters with MINIONS: THE RISE OF GRU with a look at how they helped an 11-year-old Gru become the supervillain he was always meant to be.In anticipatio...
More>>
See an Advance Screening of MINIONS: THE RISE OF GRU in South Fl...
6/23/2022 8:56 PM EST
It has been a dozen years since Steve Carell (The Office) introduced the world to the character of Gru in the animated film, Despicable Me.  Along with Gru, came some very cute girls and even cute, little yellow guys called the Minions.  Since 2010, there have not only been sequels to Despicable Me but a series of spin-off films featuring the adorable Minions.  The latest entry in the ongoing saga...
More>>
Despicable Me 3 and Boys & Girls Club of America Partner for "Me...
11/27/2017 12:44 PM EST
Universal Pictures Home Entertainment and the Boys & Girls Clubs of America are teaming up for a "Merry Minions" Holiday Program,  a joint venture designed to celebrate the season with help from the home entertainment release of Despicable Me 3-- the biggest animated film of the year presented by Illumination and UPHE -- and the iconic Minions.  Despicable Me 3 has grossed over $1 billion at the g...
More>>
Win Complimentary Passes For Two To An Advance Screening of Univ...
6/19/2017 4:24 PM EST
When Despicable Me came to theaters in 2010, no one could have predicted the franchise it would become. It not only warranted a sequel in 2013 but two spinoff movies starring those adorable, little,  yellow guys - the minions.  The movie and the minions also have spawned merchandising opportunities galore and there is even a ride at Universal Orlando Resort.  Finally, just in time for summer vacat...
More>>
Sandra Bullock to Voice Lead Villain in Minions Film
2/12/2013 3:07 PM EST
Sandra Bullock has been chosen to voice the lead villain in the upcoming film, "Minions"  The film is a spinoff from the Universal Pictures "Despicable Me" franchise.  Bullock will play Scarlet Overkill, a stylish super villain who plans on taking over the world.  "Minions" will feature the little yellow henchmen that will also be making appearance in this summer's "Despicable Me" sequel.  They fi...
More>>
Despicable Me Minions Get Spinoff Film
8/22/2012 11:44 AM EST
Universal has announced that they will be making a "Despicable Me" spinoff film for the Minions.Before the spinoff is released, the Minions will be seen in "Despicable Me 2", which will be released on July 3, 2013. The as of yet untitled spinoff, which is currently being called the Untitled Minions Project In 3D, already has a scheduled release date for December 19, 2014.The film will be produced ...
More>>
Universal Announces Family Film Branch and Despicable Me Sequel ...
7/14/2010 4:11 PM EST
Deadline reports that Universal pictures will be pushing along the development of their family film branch, Illumination Entertainment. The push comes after the surprising success of the just-released "Despicable Me" film. Along with a sequel to the film, there will be about a half dozen other projects that the company will be working on, including "Hop", starring Russell Brand as the Easter bunny...
More>>
Despicable Me Theatrical Review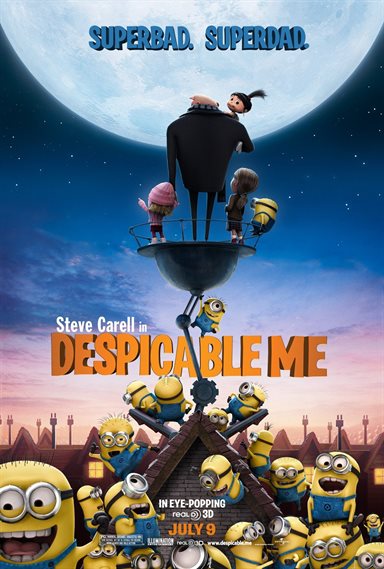 According to voice actor,
Steve Carell
(
The Office
) Gru sounds like a cross between
Ricardo Montalban
and
Bela Lugosi
. He is a bald-headed, pointed-nosed super villain who carries out astounding thefts and is gearing up for his biggest triumph yet -- stealing the moon. However, life as a super villain is not all it could be. Of course, there are perks such as freeze-raying people in front of you at the coffee shop, but there are set backs also -- the Bank of Evil doesn't want to loan him starting capital for his scheme; they prefer to fund younger upstart villains like his rival, Vector.
Being a cartoon, this gives us a kid's perspective from three cute orphan girls who unexpectedly become part of Gru's plan; forcing him to adopt and then, sort of, care for them. It gives us humor-characters in the form of his "minions" who are bright yellow pill-shaped creatures. They adore and work for Gru, and he pays them something, but it is not clear how they spend money.
The movie gives us a predictable arc, with all the interspaced 'humor beats' and plot development, you would expect from an animated kid's movie -- will the girls melt Gru's evil heart? The only time it truly shocked me was around three-fourths of the way through, Gru has to make a choice between a childhood dream with a certain childish nature to it, and a responsible adulthood. The movie's setup manages to mix these in a way that results in Gru making a decision that felt wildly out of step with the rest of the movie's light-hearted tone. To be certain, the animated camera lens downplays the tragedy of his decision, but the whole thing revolves around whether to be a super villain mad-scientist or a responsible father feeling forced and off-key to me.
Other than that, there is a shot where Gru has to break it to the minions that his operation might need to fold up shop, and he gives a speech that is pretty much the same what you expect when a company is about to close it's doors. Again, the movie hits the sad note only for moments before returning to playing it for laughs; but might be more than a little painful for people in the audience given the current economical situation of the country.
Despite all of this, animated movies cannot all be blockbusters as
Toy Story 3
and
How to Train Your Dragon
.
Despicable Me
is cute and funny and generally likable.
There are movies that use 3D well and those that do not. Disney's Bolt did not "use its 3D" especially well, but Coraline did, with some action sequences that produced flinching and non-action sequences where the 3D-effect gave the model-created world added depth that was welcome. There are very few movies that have excellent 3D such as Avatar, and those that do not like Clash of the Titans. Despicable Me is in the first category for both of them.
It has some pointy things that come at you and a very clever credits scene where minions vie with each other to see who can get the furthest out of the screen towards you. The 3D process for animation is very clean; In terms of "3D-ness", it is a credit to its kind. There is a roller-coaster scene which in either 2D or 3D gives you that falling-sensation that you can get from the big-screen simulated motion experience.
If you are looking for some family fare this summer Despicable Me is definitely one to see.
-- Marco Chacon
For more reviews please visit our film/television review section.
SPONSORED LINKS