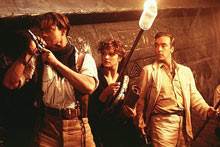 Maria Bello was recently interviewd by Sci Fi Wire at the Toronto Film Festival, where she was promoting her new film, The Jane Austen Book Club. She spoke of her upcoming role in The Mummy: Tomb of the Dragon Emporor.

Bello, who will be replacing Rachel Weisz in the film, says that the role of Evelyn Carnahan has changed. "She has the same name, but she's a very different character than Rachel played. She's a badass action chick. I had to train a lot. I had to do wushu, a martial-art form, some kickboxing, sword fighting, rifle training for a couple of months before we even started shooting. It's the role of my dreams. It is just a blast." The training was quite demanding, and Bello even suffered a black eye from a head-butt from a Winchester rifle. The actress also died her hair for the part from blonde to auburn, stating, "Yeah, it's for a film role. It's for Mummy 3, and I love it."

The film, also starring Brandan Fraser and Jet Li, will be filmed in China and is expected to open on August 1, 2008.