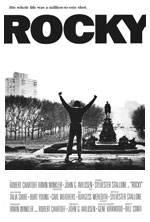 Sylvester Stallone, eternal tough guy. has announced plans for his next Rocky project. A musical. Yes, a musical.

Stallone announced recently, while in Hamburg, Germany, that the show will on the stage by November 2012. "I've always thought Rocky had the right stuff for a musical and have wanted to do it for a long time", said Stallone. He said the show will focus around the love story of Rocky and his future wife, Adrian.

The score will be written by Tony Award-winning songwriter Lynn Ahrens and composer Stephen Flaherty.