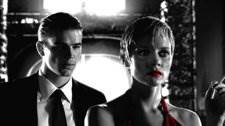 "Sin City: A Dame to Kill For", seems to be moving forward with a whole glut of news. First, the release date has been finalized; the movie will be opening in the US on October 4, 2013 with international dates to follow.

Secondly, it is officially confirmed that joining Mickey Rourke is indeed Jessica Alba, as well as Michael Madsen and although everyone expects Rosario Dawson to reappear as Gail, her name was conspicuous by its absence from the official press release from Dimension Films.

Lastly, and one that may not come as a total shock, is that "Sin City: A Dame to Kill For" will be presented in 3D. The official press release states:

"The original Sin City broke new ground with its iconic stylish look and grossed over $160 million worldwide, Sin City: A Dame To Kill For will not only bring fans back to the world that Rodriguez and Miller created, but will also add a new dimension by bringing their unique visual style to life in 3D."

Countdown to the release of Sin City: A Dame To Kill For, with the iPhone Movie Countdown Clock App.