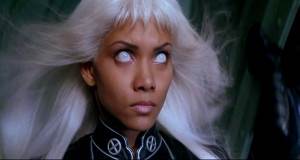 Director Bryan Singer has ended a few days of speculation that Halle Berry will return for the new 2014 X-Men movie "Days Of Future Past" by tweeting "Couldn't be more excited that #HalleBerry has joined the cast of #XMen #DaysofFuturePast Hopefully she can improve the weather in Montreal."

Halle Berry will return as Ororo Munroe, better known as Storm who has the ability to manipulate and control the weather and last appeared in X-Men The Last Stand in 2006.

Set within two separate times "Days Of Future Past" sees the mutants from the original trilogy as well as well as their younger selves from "First Class" working together to change a major historical event that may globally effect both man and mutant kind.

X-Men: Days Of Future Past will open in the theaters in the US and the UK on 18 July 2014.