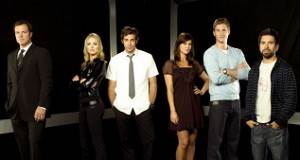 Zachary Levi, who starred in "Chuck", which ran for 5 seasons on NBC, has led people to believe that he may be interested in starting a Kickstarter campaign after seeing the success of the record breaking campaign made by Kristen Bell and Rob Thomas for "Veronica Mars".

Levi tweeted on March 13, "2nd, to you Chucksters, believe that this news only bolsters my faith that I can help bring you a #ChuckMovie. Be patient. Stay tuned." josh Schwartz, co-creator if the series also took to Twitter, saying, "Feels like a #Chuck movie would cost about $120 million. Big action set pieces. Plus we'd have to CGI Morgan's beard."

Countdown to the release of Chuck The Movie with the iPhone Movie Countdown Clock App.

Levi had suggested back in February of last year that perhaps a "Chuck" could get made using Kickstarter, and now, with this crazy success of the "Veronica Mars" campaign, it seems like more of a possibility than ever.