Chuck (2007)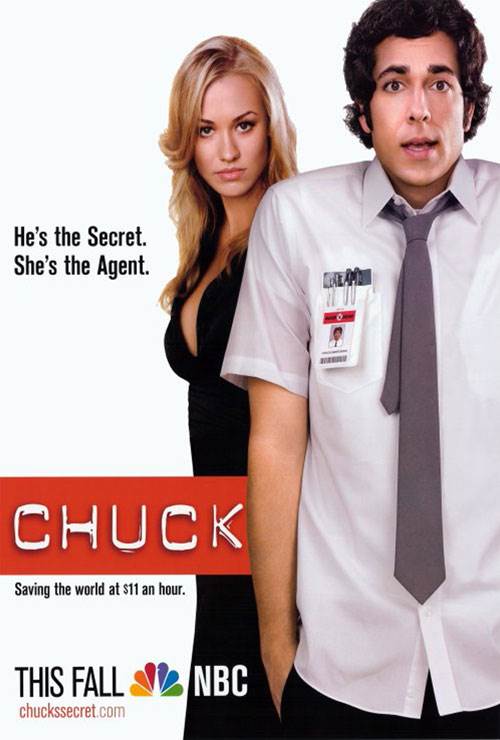 | | |
| --- | --- |
| Created By: | |
| Writers: | |
| Cast: | |
| Air Date: | Monday, September 24, 2007 |
| Studio: | Warner Bros. |
| Genre: | Television |
| Rating: | This program contains some material that many parents would find unsuitable for children under 14 years of age. |
Chuck Synopsis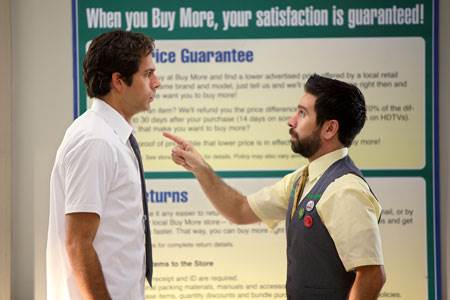 "An effervescent mix of high action, slapstick comedy and winning performances." - Matt Roush, TV GUIDE Chuck Bartowski, ace computer geek at the BuyMore, is not in his right mind. That's a good thing. Ever since he unwittingly downloaded stolen government secrets into his brain, action, excitement and a cool secret- agent girlfriend have entered his life. It's a bad thing, too. Because now Chuck is in danger 24/7. Executive producers Josh Schwartz (The OC, Gossip Girl) and McG (Charlie's Angels, We Are Marshall) merge techno-gadgetry, martial-arts smackdowns, narrow escapes and gorgeous spies in short shorts into this action comedy about a millennium 'everyguy'.

Purchase DVD/Blu-ray/4K UHD physical copy of Chuck today at Amazon.com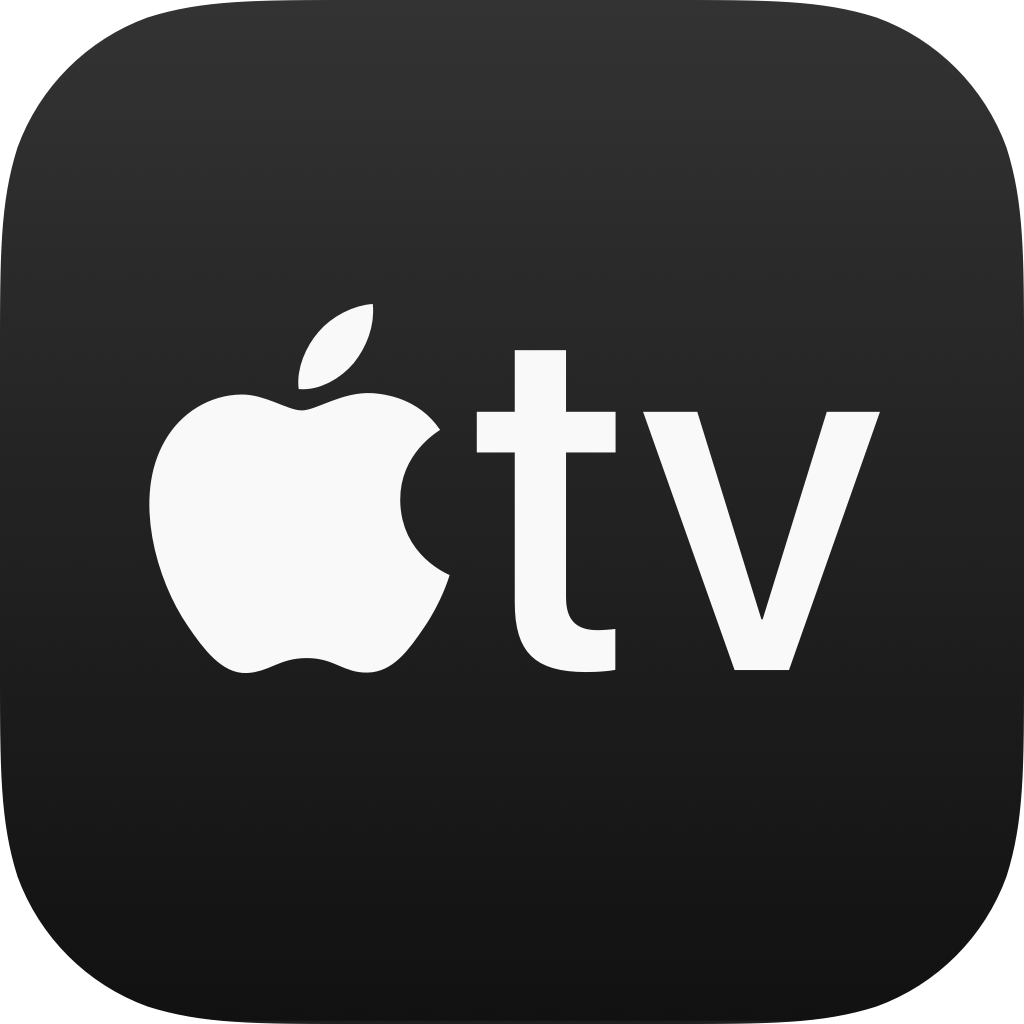 Stream Chuck in Digital HD/4K from the AppleTV store.
Listen to the Chuck soundtrack on Apple Music.
Chuck images are © Warner Bros.. All Rights Reserved.
The Chuck Soundtrack Fans Have Been Waiting For Is Here
4/7/2015 8:32 AM EST
The wait is over for all the world's Nerd Herd fans as the CHUCK Original Television Soundtrack, by Tim Jones, finally is unleashed into the world on April 7th, 2015 -nearly three years after the show was canceled. The soundtrack is available on CD and digital download, with the latter having an extra four songs included.Most songs on the soundtrack take fans back to the roots of the show with gre...
More>>
Zachary Levi Hints at Chuck Film
3/15/2013 1:54 PM EST
Zachary Levi,  who starred in "Chuck", which ran for 5 seasons on NBC, has led people to believe that he may be interested in starting a Kickstarter campaign after seeing the success of the record breaking campaign made by Kristen Bell and Rob Thomas for "Veronica Mars".Levi tweeted on March 13, "2nd, to you Chucksters, believe that this news only bolsters my faith that I can help bring you a #Chu...
More>>
Yvonne Strahovski to Star in Dexter
6/12/2012 4:11 PM EST
Yvonne Strahovski, star of "Chuck", will be joining the cast of "Dexter", according to Showtime.The hit series, which stars Michael C. Hall, will feature Strahovski as Hannah McKay, a woman who helps to solve some cases that are being reopened.  The role won't be permanent, but will at least be a multi-episode appearance.  Strahovski will also be starring in "I, Frankenstein" and " The Guilt Trip"...
More>>
Chuck's Zachary Levi Returns in To Television In A New Comedy Se...
2/14/2012 2:38 PM EST
"Chuck" star, Zachary Levi, won't be resting too long after his show's cancellation. He recently has been tapped for the lead in a new Fox show titled "Let It Go".The show will be a comedy about a married couple with Levi playing the husband. Other characters on the show include Levi's character's sister and his best friend.The show's pilot has been written by DJ Nash and will be executive produce...
More>>
Carrie-Anne Moss Cast in Chuck
7/30/2011 11:21 PM EST
Carrie-Anne Moss, known best for her "Matrix" role, has signed on to guest star in the upcoming final season of "Chuck". Moss will play Gertrude Verbanski, "a former spy who now runs Verbanski Corp, the chief rival of Chuck's new spy company. She's ruthless and deadly, yet she also has a weak spot for one John Casey - her old rival." Mark Hamill and Craig Kilborn will also be guest starring on the...
More>>
Chuck Gets Renewed for Season 5
5/12/2011 3:58 PM EST
"Chuck" fans rejoice! NBC has renewed the show for a fifth season. While the announcement hasn't been made official as of yet, it is said that there will be at least 13 episodes in the new season.Official renewals for the network's Thursday nights are, "30 Rock," "The Office," "Community" and "Parks and Recreation".NBC has also picked up some new shows, such as "Prime Suspect" and "Smash", which s...
More>>
Chuck Season 3 Off To A Strong Start
1/14/2010 8:55 PM EST
According to tvbythenumbers.com, "Chuck" has made a great comeback. The show premiered Sunday night with a 2.9 average with adults 18-49 and 7.4 million viewers. The show also made great numbers on Monday night, averaging a 2.6 rating with 7.322 millions viewers.  Impressive, even though it is a 10% drop from the premiere....
More>>
Chuck To Possibly Return Early Than Expected
10/14/2009 8:37 PM EST
According to Entertainment Weekly, the cult hit series, "Chuck" will be returning to NBC's lineup much sooner than previously expected.  With disappointing ratings for some of their shows, such as "Southland", NBC could be bringing the show back as early as late October. It originally wasn't supposed to be returning until March. These new episodes are said to be the best yet, according to NBC insi...
More>>
Save NBC's Chuck
2/25/2009 8:03 PM EST
Rarely does a show grace our television screens that is at once smart, funny, exciting, and just an all around damn feel good experience. Yet despite CBS being in repeats, The CW in repeats, ABC airing the "Women Tell All" special episode of "The Bachelor", and despite mostly weak competition, NBC's "Chuck"  generated its lowest ratings ever Monday. Wake up people! Chuck is the absolute best show ...
More>>
Chuck's Zachary Levi To Star In Next Chipmunk Film
2/19/2009 11:42 AM EST
The upcoming Chipmunks film, "Alvin and the Chipmunks: The Squeakquel", will be featuring some different characters than its predecessor. According to THR.com, Zachary Levi, who stars in the NBC series "Chuck", will be joining the cast as David Seville's cousin (Jason Lee).  The film will also be featuring the Chipettes, Brittany, Jeanette and Eleanor.  The original film grossed over $217 million ...
More>>
Chuck: The Complete Third Season Blu-ray Review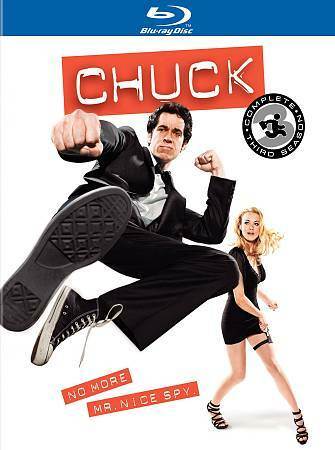 There's nothing quite so compelling of excellence from humanity than impending doom. From followers of Rapture theology, it breeds a love/hate relationship with apocalypse. To corporate takeover specialists, it provides an effective tool to keep newly-acquired managers delivering profits for the new big brother. What else can you do, given the knowledge that if you screw up, you're screwed?

A little over a year ago, Chuck was in a very different place than now. Home network NBC looked not quite the disasterpiece it was to be shortly, exposed and exacerbated by the Leno debacle. Chuck was a bubble show, and not in the sense die-hard fans describe clearly doomed series, nor that of the jaded followers of network TV who assume only American Idol et al will be spared by the axemen year over year. We were, for once, not quite sure whether it was in NBC's best interests to renew the series; nor, it seemed, was NBC.

The results were more than pleasing for fans of quality network TV. Season 2 was an astonishing improvement over the lackluster first season, with a slew of instantly rewatchable episodes, a titillating arc that still managed not to suppress the fun elements that make Chuck unique, and a grand finale befitting such a title.

Season 3 exhibits the beginnings of the structural failings of any show that pits an underdog character against increasingly powerful foes. Chuck (Zachary Levi, Less Than Perfect) must forever acquire further skills in the spy field in order to believably defeat great enemies that seem to arrange themselves before him in ascending order of threat level. As he does, he cannibalizes the world around him that lends so much charm to his tale. By the end of this season, there is nothing left here that hasn't been seriously affected, with mostly disastrous results, by the crusade through which Chuck is forced onwards and upwards.

Paradoxically, the writers show a curious distaste for exploring the more interesting outgrowths of Chuck's actions. Opposite the pivotal moment of the season, they executed a backpedal so egregious it reminds one of the reversal stunts on Dallas.

Given that everyone involved with production clearly knows what they're doing, something or things must have happened. It's possible that the show has peaked a couple seasons early in the usual rise and fall of multi-year series. Perhaps they don't have the energy to pull off another season 2. Or, perhaps, with NBC's dire straits substituting for their own, they no longer drive incessantly forward, seeking new heights with secure ground from which to take shelter from the Reaper, always close behind.

All that said, it's still better than most things on TV. As such, I give it a better-than-average grade. Nevertheless, you might feel it's better to cut your losses now, and swallow the irony of losing faith just as it seems to have truly paid off.

As with previous seasons each disc contains "declassified information" such as extended or deleted scenes. The fourth disc also contains a "21 making of featurette", A Jeffster rockumentary, and a gag reel.


Read More Chuck Reviews
Eric English (A) (Chuck: The Complete First Season DVD Review)
Eric English (B) (Chuck: The Complete First Season Blu-ray Review)
For more reviews please visit our film/television review section.
Watch the cast of Chuck come together to read through episode 309 to help feed America! #UnitedAtHome...
SPONSORED LINKS