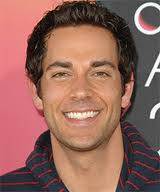 "Chuck" star, Zachary Levi, won't be resting too long after his show's cancellation. He recently has been tapped for the lead in a new Fox show titled "Let It Go".

The show will be a comedy about a married couple with Levi playing the husband. Other characters on the show include Levi's character's sister and his best friend.

The show's pilot has been written by DJ Nash and will be executive produced by Peter Tolan and Michael Wimer along with Nash.